In Stock & available for UK next day delivery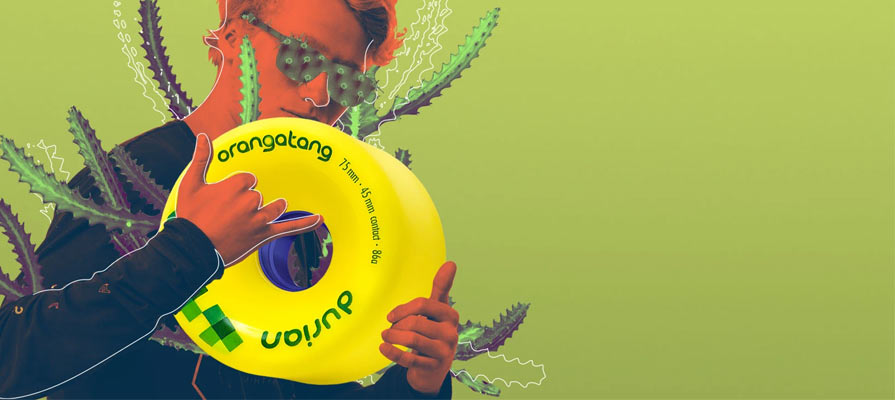 Smells Like Downhill Freeride.
Much like its botanical namesake, the Durian is a big, meaty, and succulent gob of urethane designed to carry you across town to the not-so-local fruit stand or to be smeared liberally over your favorite downhill freeride run. The Durian is poured in our proprietary Happy Thane formula for high roll speed, plush feel, and smooth, predictable drifts. Purchase price includes set of 4 wheels.
Durometer
Measure of wheel hardness. Softer wheels (77a-80a and lower) offer more traction and roll smoother and faster over rough surfaces. Harder wheels (83a-86a and higher) slide more easily, offer greater durability, and roll faster over smooth surfaces.
Durian Wheels 75mm 80a Orange
Durian Wheels 75mm 83a Purple
Durian Wheels 75mm 86a Yellow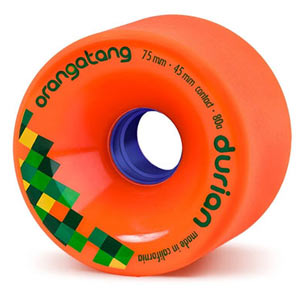 Orangatang Durian 75mm Longboard Wheels Specifications:
Diameter: 75mm
Width: 52mm
Contact Patch: 45mm
Style: Rounded lips with stone-ground surface
Bearing Seat: Offset
Formula: Happy Thane
Core: high-strength, high-stiffness, heat-resistant urethane
Weight (per wheel): 7.1 oz / 200 g
Durometers: 80a, 83a, 86a