In Stock & available for UK next day delivery
The 9in Mud Plugger Tyre from Trampa has been designed from scratch for the worst conditions and perfect for electric mountainboards when you need to plow through the mud in the winter. The tyre is a 3 ply hard rubber with reinforced structure to reduce punctures. The tread pattern is 2.5in wide and with grip on the side walls to grip in ruts. Due to the tough structure you can also lower the pressure in the tyres to give more grip too.
You can obviously still also use these mudpluggers for downhilling and kiteboarding but will create a bit of drag due to the wide profile.
The Trampa Mud Plugger 9in Tyres are sold Each without inner tubes.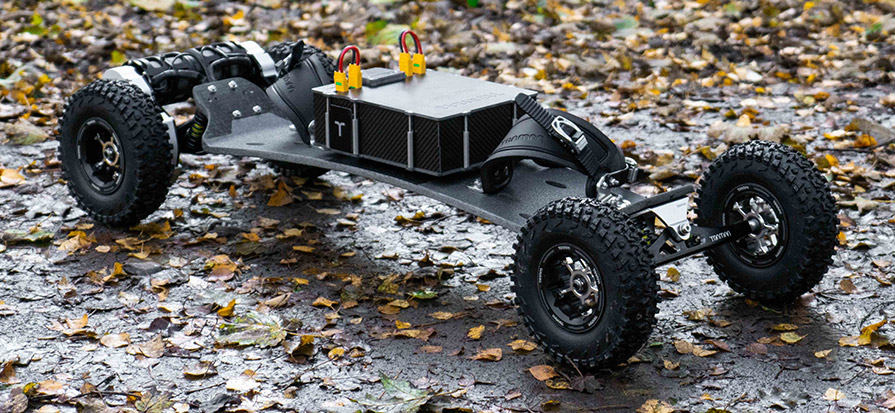 If you are wanting to romp through the mud then these are what you need. If you don't want to take our word for it check out the video from electric board expert Lee Wright!
Fitting the tyres to your board you will need 9in compatible hubs as they are wider and the centre bead size is different to 8in tyres. The perfect hubs are the offset MegaStar alloy hubs from Trampa but the Primo Composite hubs will also work great depending on your board and motor connection.
Often many electric board users have been just putting two 9in mudpluggers on the drive wheels and then using two 8in mud pluggers on the front to save weight and costs! Get the drive to the mud and increase ground clearance on the back but keep the front light to kick about.
Trampa 9in Mud Plugger Tyres Specifications:
9in Diameter (225mm)
2.5in Width (65mm)
Weight: 550g