Out of stock. Sorry, This item is now Discontinued.
Related Products
The MBS Comp 95X Mountain Board is the top chunky freeride board from mbs's range. Built for taking on the roughest terrain as mbs has taken the immensely popular MBS Comp 95 and beefed it up with fivestar hubs and 9 inch T2 tyres giving it the extra ground clearance and a V5 Brake kit. This is the perfect board for rough trail riding and tricky descents and is very popular in the Mountains. The brake kit allows you to control your speed where there is no space for the usual power slides. The Comp95X comes with the new Matrix II Trucks with soft carving yellow blocks ideal to get the carve on but easy to swap out if you prefer a stiffer ride. The board is finished with new F5 bindings and of course has the new Comp95 birds deck which locks you solid onto the board. Check out the video below for all the special details on the trucks and deck.

You could use the MBS Comp95X and then add in a set of 8inch tyres and hubs and swap the brake on and off and you have the best of both worlds! Also you could also get the similar effect by adding the V5 brake to a normal comp 95 for a lighter weight break board for smoother surface freeriding.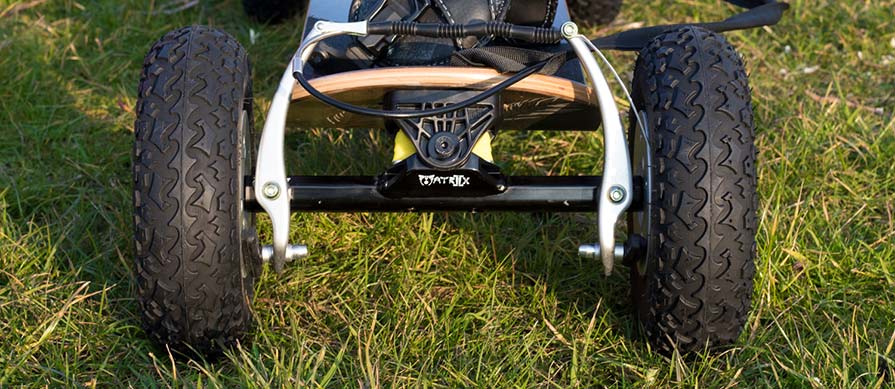 MBS Comp95X Birds Brake Mountainboard Specs:
Overall Weight: 8.6kg
Overall Length: 117.1cm / 46.1in
Axle to Axle Length: 97.1cm / 38.2in
Deck Construction: Powerlam (Fiberglass, Maple)
Deck Stiffness: Medium
Deck Tip Angle: 30 degrees
Deck Length: 95.0cm / 37.4in
Deck Width: 23.0cm / 9.1in
Truck Type: Matrix II with Yellow ShockBlocks (Soft Steering)
Axle Width: 39.0cm / 15.4in
Hub Type: Fivestar White
Tire: T2 (9") Black
Bindings: F5 Ratchet
V5 Brake Included