In Stock & available for UK next day delivery
The RRD Air EVO Cruiser inflatable paddleboard takes it's design and inspiration from the race boards but adds a bit more stability and rocker to allow for easier riding on choppier waters. While not designed for catching waves it will cut though small waves and ride simple ripples with ease. Thinner width than the Tourer range of boards the Cruiser tracks faster and glides straight and smooth on inland rivers and lakes. The 6in thickness along with the special band technology makes this a super stiff iSup for paddling easily. The 12ft length and smooth design accommodates most adult riders with ease.
AIREVO CRUISER PADDLEBOARD SPECS:
12ft long x 31in wide
Volume 310 12′ X 31″ X 6″
Fins 1 X SINGLE TOURER 9″
-The Air EVO cruiser RRD iSup also comes with versatile lightweight carry bag and Pump with repair kit. Plus we package this board with a free RRD start alloy 3 piece adjustable paddle and a RRD surf leash so you have everything to get straight out on the water and paddling.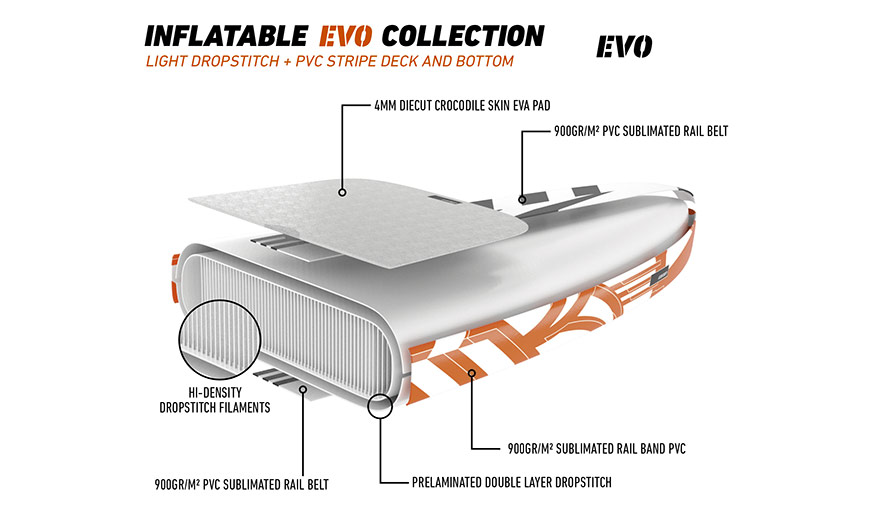 RRD's all new Sandwich Belt that wraps itself around the whole contour of the board, the Air EVO Cruiser iSUP is stiffer than your typical inflatable SUP. With cargo netting and two featured tow points, the inflatable sup board features everything you need to get going on your adventures across inland lakes and rivers with the capability of having fun in the ocean.
If catching waves is your thing then look elsewhere as this is not the design of this board there are a lot of other more versatile iSUPs for waves. But if you are more interested in river and flat water paddling and want to cover some distance then this is a superb cruiser which is agile for it's size and cuts through the water cleanly. There is a cargo net on the front and two points front and back it's ready for your next distance paddle or pub crawl on the river! If you are interested in fishing or other activities then the RRD Air Tourer with more stable width would probably suit you more.