Introducing the answer to all your wetsuit drying problems. Whether you are a surfer, kitesurfer, wakeboarder or even just own a wetsuit, stick it in a Dry Bag Elite and hang it up inside your car or outside in the sun to intensify the drying effect without damaging it with UV rays. The Dry Bag will act as a mini oven venting moisture out the front mesh panel which increases the overall airflow to your wetsuit rather than having it chucked in a bucket in the back of the van to worry about another day.
Now the DRY BAG Elite comes complete with DRY Hanger set for your perfect drying setup!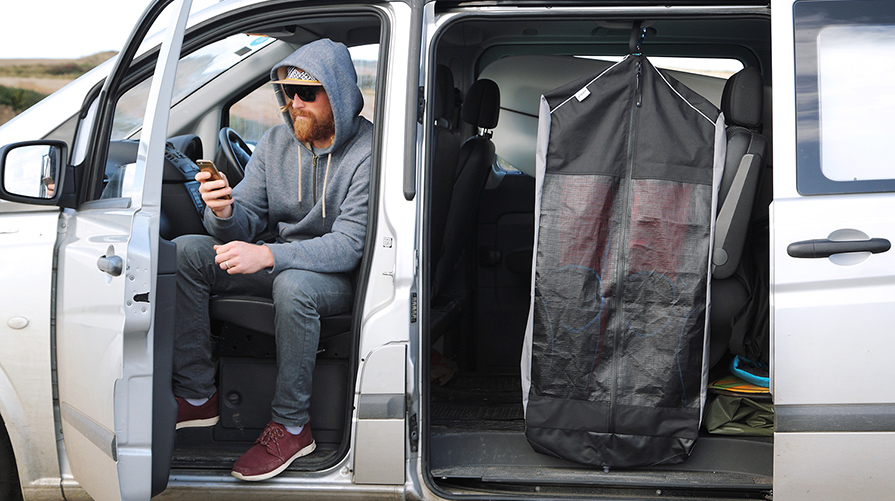 Worried about drips and puddles? Don't worry. T he Dry Bag Elite collects all the wetness, sand and dirt off of your wetsuit at the bottom of the bag sealed with waterproof stitching ready to be poured out using the plug. This keeps all your gear in the car/ van/ garage or room dry without any un-pleasant puddles to clear up!

With a storage option such as this you can keep you wetsuit constantly drying from the moment you take it off making it the most ideal solution no matter the season! The DRY Bag Elite is a core product for the water sports lifestyle enthusiasts and now we have one, we have no idea how we ever coped without one!
The quick specs:
300 Denier material
UV Protection
Mesh vents to increase airflow
Waterproof seams
Welded water reservoir
Lightweight and durable
Protects your wetsuit
Something everyone needs