ATBshop are proud to present this custom scooter coming in at an incredible price. We have stuck with two colour options on these and they look sweet. This example is the blue and silver option. We love how blue compliments the silver deck so well making it really pop out. This scooter has been carefully thought out to appeal to a rider that wants to do a bit of every type of riding.
"Great price, Great Scooter. What more could you ask for?"
Starting from the top we have Odi Longneck grips! team rider Luke's favourite grips, so so grippy and mega soft. We have gone with an aluminium district Y style bar for weight reduction but with gussets to keep the strength. They look great in the dark grey colour. These bars are ever so light meaning tricks such as barspins are done with ease.
SCS compression is one of our favourites here at ATB, its one is the easiest compression systems to keep maintained and we have fitted a Mod Revival SCS clamp in Blue to this one keeping it looking sleek and colour matching throughout.
This Scooter has been gifted with Mods TFA Fork, durable and lightweight forks keeping you going, and a mod integrated headset for those smooth spins.
The deck is Districts top model deck. the HT in 5.1 inches wide and 21.25 inches long its a great spec for pretty much anyone, riders such as Cam Ward and Chris Farris use these deck specs on their pro model decks and if you watch these guys ride you will understand why this is one of our favourite choices.
Fitted to keep you rolling we have gone with the District 110mm Wheels in blue which don't only look good, they are extremely hard wearing and should take a beating.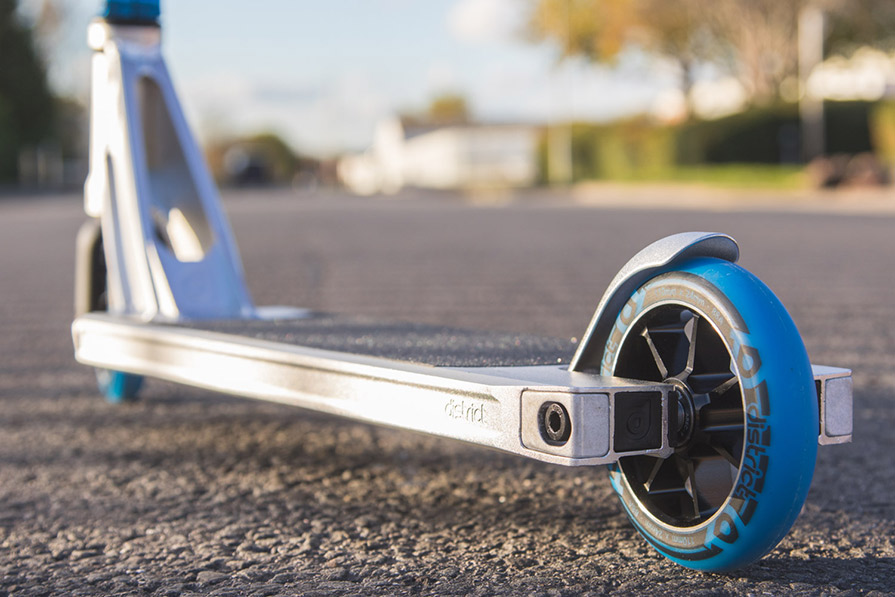 Specifications of the Custom District HT in Silver and Blue
ODI Longneck Grips
Aluminium District Y Bars
Mod Revival SCS Clamp
Mod TFA Fork
Mod Integrated Headset
District HT 5.1in Wide by 21.25in Long Deck
District 110mm Alloy Core Wheels with District Bearings