The BKB Xenith ESC is a fork from the very popular Focbox Unity ESC hardware branch. It has taken the Unity and improved it in the areas that needed work and created an awesome value ESC that is fully compatible with the current and future VESC Project firmware and VESC tool software admin (note warranty voided by changing firmware). It also has it's own Xenith Easy UI if you don't want the depth of info the VESC tool can offer. The Xenith comes with Bluetooth connection built in as standard and MR60 Motor connectors and a new updated switch in the V2 version and silicone protective cover. If you are powering an electric skateboard or mountainboard then the Xenith is a great option for high power hungry riders. But if you are running large motors and wheels at high motor amps then the Xenith speed controller does need an extra heatsink with air cooling to keep it all cool in use.
Please Note: BKB Xenith V2.1 comes without IMU or CAN chips due to global shortages. This is still fine for most esk8 applications apart from 4wd which would need to be done with PPM Split instead of CAN. The new V2.1 comes with Black silicone case with Red Heatsink which looks super cool!
This is a speed controller designed for DIY builders with some experience of setting up and configuring controllers and may involve soldering and changing connectors on motors or ESC. If you are using this we strongly recommend using a external heatsink to disperse heat otherwise you can damage the unit in use. We do sell a simple extra heatsink for these controllers. All Xeniths are checked before shipping on known hardware and there is a warranty that you need to register your controller if you need to claim. See info below about BKB warranty.
So going through the features of the Xenith controller:
Dual motor controller - Control 2 motors (does not work with one motor)
Built in new high quality switch, roll to start and auto shutoff included.
Dual Aluminium Heatsinks - additional heatsink recommended for high power applications.
Single MCU architecture. Dual drive with single brain for efficency.
Integrated Bluetooth module for app configuration. Or USB C connection for desktop admin.
UART Com port is based on VESC4 pinout not VESC6 layout.
Motor Hall Sensors are 5V based.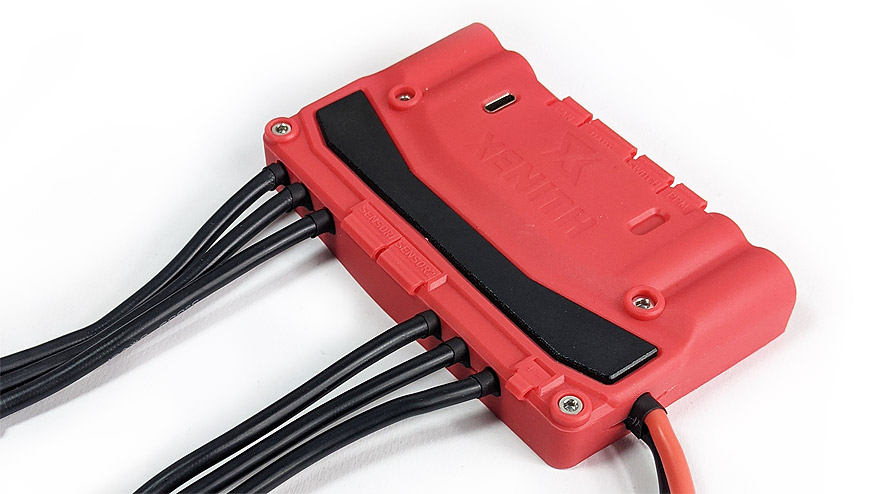 BKB Xenith V2 Features:
Built in switch: roll to start, auto shutoff when not in use
Dual aluminum alloy heatsinks
Medical grade silicone case
Integrated Bluetooth Module (connect to your favorite apps!)
USB C connector for wired programming
BKB Xenith V2 Tech Specs:
160A Continuous Current
300A Max Burst Current
80A Motor Current (continuous)
Works with 3-12S Batteries (8V-51V)
Compatible with VESC Tool (Note, warranty void if firmware changed to VESC)
Works with firmware VESC 5.1+ or UNITY 23.46

(Note, warranty void if firmware changed to VESC)

Use PPM, UART, CAN-bus, NRF remotes (UART port is VESC4 pin layout)
Compatible with Mobile apps for Apple iPhone and Android such as Xmatic, Your's Truly, VESC Tool
---
What's Included in Xenith Package:
1x BKB Xenith (Motor controller, dual heatsinks, silicone case)
1x Integrated Bluetooth Module
1x Momentary Switch
1x USB C cable
1x PPM Cable
Industry Leading USA Customer Support
100 Day Pop It, Replace it Warranty (terms apply)
BKB Xenith Dimensions and Wires:
115.5mm x 67mm x 18.13mm
Motor Wires: 12AWG
Motor Connector: MR60 (female set included)
Battery Wires: 12AWG
Battery Connector: XT60-M
12mm Momentary Switch
Multiple Heatsink Mounting Patterns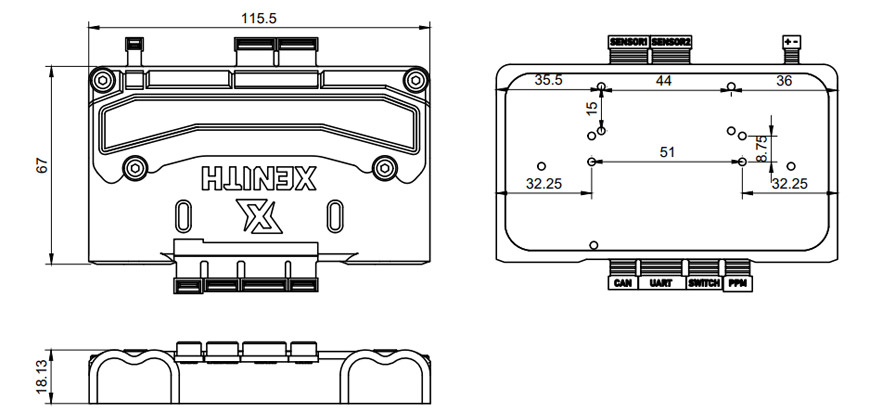 Click to goto the setup guide and download the Xenith Easy UI software
By purchasing this product you agree to the Xenith Warranty Terms & Conditions
BKB Xenith Version History:
V1: Original Release
V2: Improved Switch Circuit
V2.1: Further refined switch circuit. NO IMU or CAN Transceiver placed on the PCB. Black silicone case with red heatsink
V2.1 - July 2022 - revised chip supply for improved reliability.
Xenith Warranty Terms & Conditions
The Xenith is designed for experienced builders. As a DIY product it requires specific setup that is unique to every situation. By purchasing a Xenith you acknowledge that you have the necessary knowledge and experience required to setup and program the ESC.
By purchasing any of BKB products you acknowledge that you unequivocally wave all rights against Summit Labs LLC (DBA Build Kit Boards), its owners, or employees. This includes property damage, personal injury, and anything else that results from the use of our products.
The Xenith has a 100 day warranty that starts on the day you receive the product. It does NOT start on the day it is first used (when ever that is). To activate your warranty you must complete the Xenith Warranty Form and have it approved by an employee of Build Kit Boards. Build Kit Boards has the right to deny a warranty claim for any reason.
The 100 day warranty covers damage to the Xenith that was the direct fault of ONLY the Xenith. The warranty does not cover things like water damage, shorting of the battery cables, shorting of the phase leads, physical impact, or any other cause as determined by Build Kit Boards.