The VESC6 is still the most known and respected controller for powerful electric board builds. This Trampa VESC6 has been tried and tested for a long time to give the best reliable performance in all setups. There is the HD60T now for a smaller more compact build but the VESC6 is still able to push more power continuously. This package deal is for the two VESC6 units along with the CAN-BUS cable to link them together and the Bluetooth RF board and connection wire. This allows you to use android phone to configure the setup and an iphone to get info but not setup. It will also allow you to connect the trampa wand controller.
If you need a box to house these on your DIY build then we offer a simple ESC case designed for two VESC6 units.
The VESC6 twin setup kit is perfect for powerful electric mountainboards, tried and tested reliable control for big motors and amps!
VESC stands for Vedder Electronic Speed Controller and is the brainchild of Benjamin Vedder a guru in the electric speed controller world. The VESC software and general hardware is an now an open source project with collaborators around the world tweaking the features and pushing the boundaries along with the creator. Benjamin works with the Trampa design Team to produce Official VESC hardware which is optimised for the software. Working perfectly with the VESC Tool Android App or VESC Tool PC application all the settings can be set and tweaked to your hearts desire. If you want it simple and not tweak then this too is easy to auto setup and ride! You can use a VESC on a esk8 or a mono wheel or unicycle or a robot or industrial truck or basically anything you need to control a motor with. But the smoothness in the VESC is what has made it the standard for ESk8 and Electric Mountainboarding. If you want more info on the VESC project then check out https://vesc-project.com/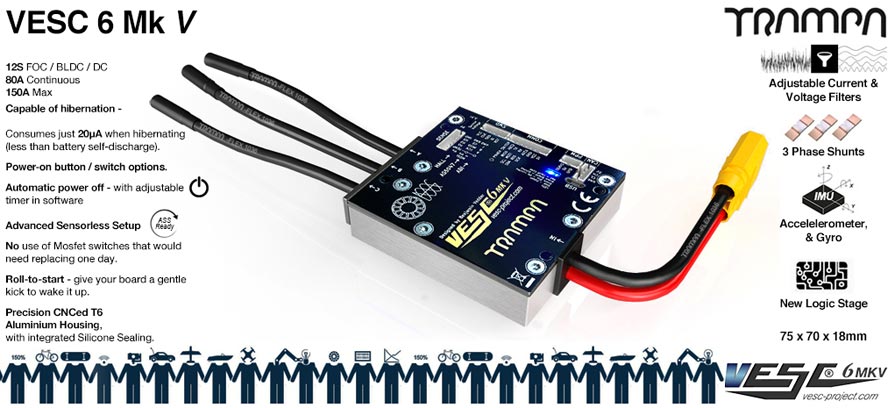 Features of VESC6 Unit
Current and voltage measurement on all phases (three phase shunts)
Adjustable current and voltage filters
built in IMU chip (accelerometer, gyro)
Regenerative braking
Traction control (single and twin setup)
Sensored or sensor less operation + hybrid mode
Configurable RPM-, current-, voltage- and power limits
Input source: PPM, Analog, NRF Nyko Kama Nunchuck
Communication ports: USB, CAN,UAVCAN, UART
Throttle curve and ramping for all input sources
Separate throttle curves for acceleration and brakes
Seamless 4-quadrant operation
Motor revolution, amp hour, watt hour counting
Display of speed, power, duty cycle, amp flow, estimated range and battery status on App
Accumulated data from arrays of VESCs
Real time data analysis and read out via communication ports
Real time data analysis and read out via VESC-Tool APP or VESC-Tool software
Adjustable protection against:

Low input voltage
High input voltage
High motor current
High input current
High regenerative braking current (separate limits for the motor and the input)
High RPM (separate limits for each direction).
Over temperature (MOSFET and motor)
VESC 6 Technical Data Sheet:
Voltage: 11.1V – 60V (Safe for 3S to 12S LiPo).
Voltage spikes may not exceed 60V!
Current: Continuous 80A, Burst 120A. Values depend on the temperature and air circulation around the device!
5V 1A output for external electronics
3.3V 0,5A output for external electronics
Modes: DC, BLDC, FOC (sinusoidal)
Supported sensors: ABI, HALL, AS5047