Flysurfer Viron 3 Trainer Kitesurf Kite
Great for learning to fly depower kites on the water, snow and land.
The Flysurfer Viron3 is designed for learning and smaller riders trying their hand at flying a water re-launchable kite. Super durable due to its foil design and no pump required.
In Stock & Available for delivery
Flysurfer Viron3 Kitesurfing Depower and Trainer Kite The Flysurfer Viron3 is an evolution from the popular niche Viron kite and with some new tweaks it has expanded the range of the kite.
The Flysurfer Viron3 is an auto relaunch closed cell foil kite and has been designed for beginners taking their first steps into kiting.
This kite is extremely simple to fly, relaunch and is designed to recover from inversion by itself, making the learning process as simple and easy as possible. This makes it ideal for learning the basics with minimal assistance on land, water and snow.
Many smaller riders have found the original 6m Viron great as a high wind kite due to its huge depower range on snow and land.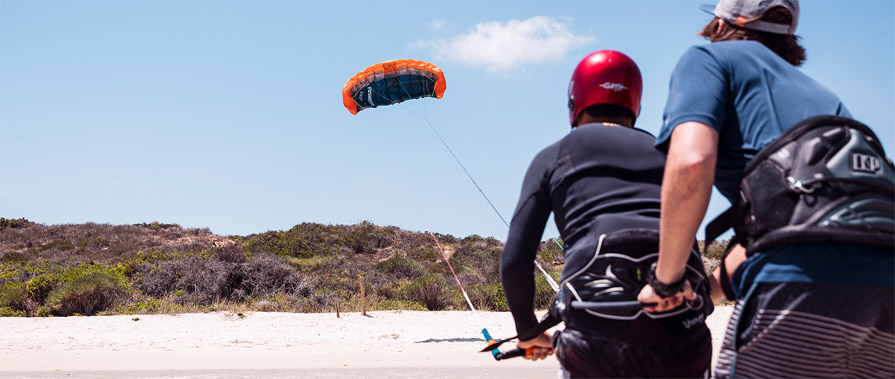 The key features for the Flysurfer Viron3 are:
Auto relaunch with minimal bar input
New B-Safe Safety System
Impact Absorbing Technology
Included Connect Control Bar in Package
The Viron3 has a delta inspired shape with swept back wingtips. This aids the relaunch ability. The one air intake in the centre of the kite prevents it from taking on water or snow when being crashed. The coloured tips make teaching simple as they correspond to the bar leader lines. The line attachments are all very clearly marked too. The B-Safe sefety system brings the kite down and rendering it powerless and easy to relaunch.
The kite comes complete with the new Flysurfer Connect Bar system which is designed to work seemlessly under extreme conditions including ice, sand and dirt. The simple bridle system has no mixer meaning it is very lightweight and simple.
This is a trainer kite and designed for beginners. For this reason the kite is tuned not to be a jumping/hangtime/upwind machine and only comes in small sizes.
Flysurfer Viron3 Wind Range (knots)
The wind range is done as a guideline only. It is based on a rider weight of 75kg. Size choice is dependent on skill, board size, conditions and experience.
| VIRON3 | 4 | 6 | 8 |
| --- | --- | --- | --- |
| Water (knots) for 55 kg | 24-34 | 20-30 | 17-26 |
| Water (knots) for 75 kg | 28-40 | 23-35 | 20-30 |
| Land (knots) for 55 kg | 6-21 | 6-21 | 6-18 |
| Land (knots) for 75 kg | 6-32 | 6-25 | 6-22 |
The Flysurfer Viron3 Package
Total "Ready to Fly" package consists of:
1x VIRON3 Kite only
1x CONNECT Control Bar
1x Universal Kite Bag
1x Kite Safety Guide
1x Bar Safety Guide