In Stock & Available for delivery
Introducing the big, the notorious Ozone Kiteboarding Edge V11 Kitesurf Kite!
Are you interested in big hangtime, foilboarding and old skool riding or striving to take part in the next Olympics in the kitesurfing race events? The Edge, now in its 11th generation, is your high aspect free ride/ race kite designed to deliver high performance in all conditions! From previous Ozone Edge versions this one has had a bit more refined user friendly performance with a bit smoother power delivery and great float in the jumps. The V11 has a new rip-stop canopy material which gives an advanced ultra flex coating, to improve feedback in gustier conditions making for a smoother ride.

The power the Edge generates and delivers at the very corner of the wind window is unmatched by any other. Predictable, fast and seriously boosty, the Edge is everything you require as a rider who wants to land those next level tricks. With incredible up wind abilities and its low drag aramid bridles the V8 glides beautifully through the air. Its unmatched turning and rigidity has been achieved by using a 5 strut design to hold its shape effectively in high winds. For a high aspect kite, the V9 relaunches from the water swiftly and effortlessly giving you more time riding and less time fishing your kite from the water!
In the Race scene, it has more than proven its pedigree. Consistently helping riders take the top three steps of Championship podiums all over the world over the years. Results can only speak for themselves and the Edge has more results than any other 'race kite'.
Featuring 4-line, pulley-less bridle systems for a more direct feel, Ozone have been working on fine tuning the Edge V11's bridle configurations to give you multiple tuning options on the bridles and wingtips and making the most out of a fully customisable steering and bar pressure!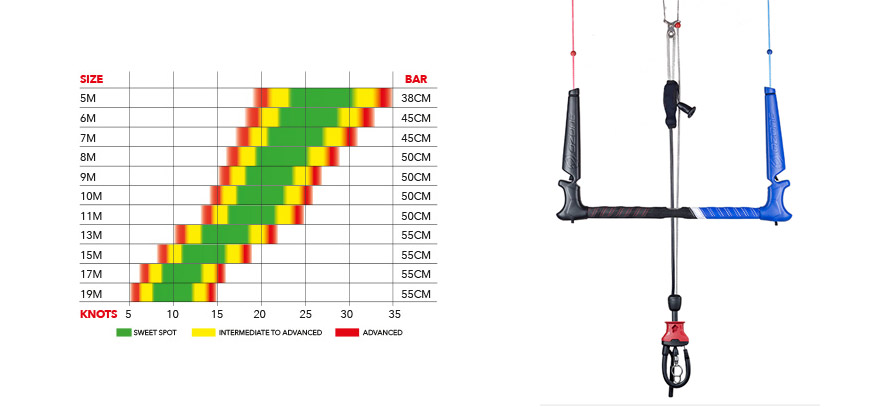 For the truly committed racers, Ozone's Race Contact Control Bar allows the Edge to be trimmed on the fly while fully powered and in position. The double pulley design enables easy micro power control and adjustment allowing you to hold your line at all times. (Please note: The Contact Race Bar is not standard, please call for more details)
Contact V4 Click Loop Control Bar
The Ozone Contact V4 push away control system is a clean and simple bar which is easy to use and maintain with push away release that totally flags the kite out on one line for complete control. Simple and easy to reload the safety gets you back up and riding in no time.
There are two safety modes for clipping on, The standard flag out which if you pull the release of let go of the bar when unhooked the kite drops to one line and normally is face down into the wind (great for self landing if needed). The other option is the Suicide which still flags out if the megatron is released while hooked in, but if unhooked then it doesn't flag out unless the chicken loop release is deployed. So if you drop the bar then the kite still has power. (not recommended unless knowing the risks, it's called suicide for a reason)