Scooter Accessories - Apex - Grip Tape
We stock a wide range of upgrades and replacements for stunt scooters from brands like Apex, Tilt, Addict, Ethic, ODI, Hella and loads more!

Whether you are riding your first beginner scooter or throwing big tricks in the skate park or street we stock all the parts to help repair your ride.

We stock handle bar grips, quad clamps, compression kits, SCS, threaded and threadless forks, HIC, spring and flex fender brakes, decks, griptape, sealed headsets, axles, wheel bearings, stunt pegs and more!

APEX Pro Scooters is an Australian owned company that designs & manufacturers light weight, high quality, Aluminium Scooter Products. All their components are manufactured on the latest multi-axis CNC machines and products are tested by our professional team riders.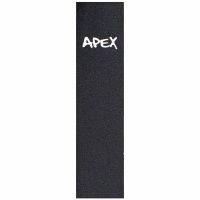 The classic Apex logo cut into a sheet of premium quality griptape. Laser cut for accuracy!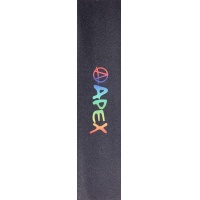 The rainbow Apex logo Printed onto a sheet of premium quality griptape. This sheet of grip will give your scooter that extra premium look when you turn up to the park.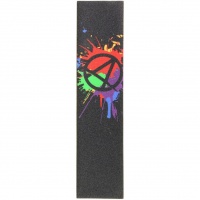 The high grade griptape from Apex is in a multicoloured splatter design. Sized to fit all Apex scooters and a lot of others too at 5 Inches.