Scooter Accessories - Ethic DTC - Handle Grips
We stock a wide range of upgrades and replacements for stunt scooters from brands like Apex, Tilt, Addict, Ethic, ODI, Hella and loads more!

Whether you are riding your first beginner scooter or throwing big tricks in the skate park or street we stock all the parts to help repair your ride.

We stock handle bar grips, quad clamps, compression kits, SCS, threaded and threadless forks, HIC, spring and flex fender brakes, decks, griptape, sealed headsets, axles, wheel bearings, stunt pegs and more!

Ethic DTC has been striving to create a range of quality products at decent prices, using only the best materials out there. These products have been designed using only rider's opinions with every decision, create an incredibly reliable brand.
out
of stock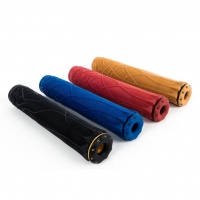 Possibly the most comfy flangeless grip you will ever have the pleasure of laying your hands on!