In Stock & available for UK next day delivery
Built from the ground up the Blunt One S3 complete scooter is made from Blunts high level durable parts and perfectly constructing for the aspiring young rider. Whether you are cruising along the pavement or shredding your local skatepark. The Blunt One S3 suited for beginner to intermediate riders looking to advanced in the sport and progress into a more professional rider. With a several colour options to choose from Blunt scooters have you covered, with high quality powder coating. suitable for riders between 5-12 this scooter is more than enough to get you going.
The deck made from 6061-T6 aluminium which is aircraft grade coming at 480mm/19" long and 120mm/4.75" wide which is the perfect size for the kids to kick around on. Bars are constructed with 4130 Chromoly steel wrapped in soft and durable TPR handgrips. Blunt One S3 bars come in at 580mm/21.65" high and 20.5" wide which is the perfect height for tricks. Steel Blunt COLT fork with internal headset compression system with Blunt one S3 wheels with high grade 86a polyurethane. Also the Blunt S3 features the Pro level brake system which is on their high end completes.
Blunt focus has been on utmost safety for the young rider.
​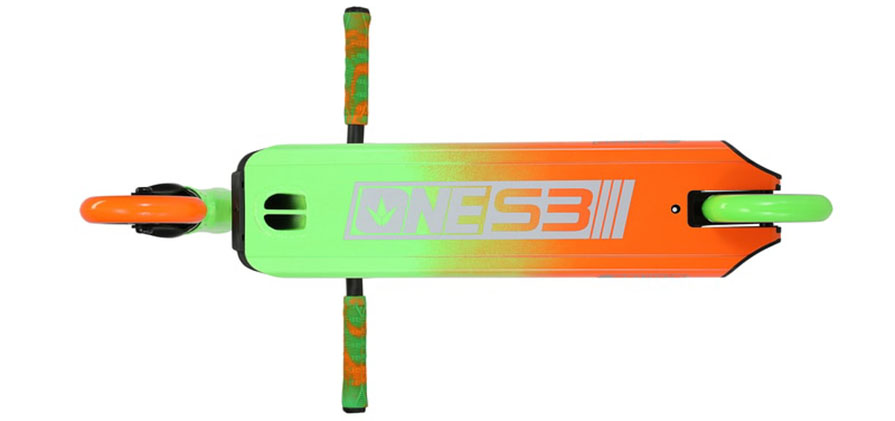 Blunt One S3 Specifications:
6 Series Alu One deck: width 120mm/4.75 length 480mm/19"

High Tensile Steel COLT IHC fork

2 Bolt Alu Clamp : 6mm bolts

Fully sealed integrated headset

110m x 24mm Blunt S3 Wheels 86A

ABEC 9 Bearings

High quality grip tape

Two tone TPR hand grips: 160mm

Nylon Bars end

Weight 3.6kgs/ 7.9 pounds
Total Height: 790mm/31.1"
Total Length: 650mm/25.6"

​