In Stock & available for UK next day delivery
The Blunt Prodigy X Burnt Pipe Stunt Scooter is the tenth version of the prodigy line which has been developed over 12 years of production. A colour seen on the S8 Prodigy has made a comeback on the X version the Burnt Pipe is awesome reflective colour.
The classic setup that has made the prodigy the park scooter of choice is still there; the lightweight aluminium Reaper V2 bars, the Aluminium IHC Diamond forks, the durable TPR Handgrips and Nylon Flex Brake but the rest of the scooter has all new parts! The biggest change in the scooter is the new X Series Park deck, which has a new footplate that is wider, thinner and stronger with a more responsive concave. The headtube section has also seen some upgrades with a new diamond cut out and profile to be stronger connection with the deck and reduce weight. The deck is now 5in wide x 19.5in long for the Prodigy X Park.
The new Prodigy deck has a new higher grit full black griptape and finished with new nylon deck end plugs and new upgraded low stack headset to simplify and streamline the front end. The new lightweight double clamp and Sector 120mm x 26mm PU wheels finishes off the scooter.
Total weight is the Prodigy X Park Scooter is 3.265Kg compared to the S9 at 3.5Kg is a good bit lighter and bigger scooter!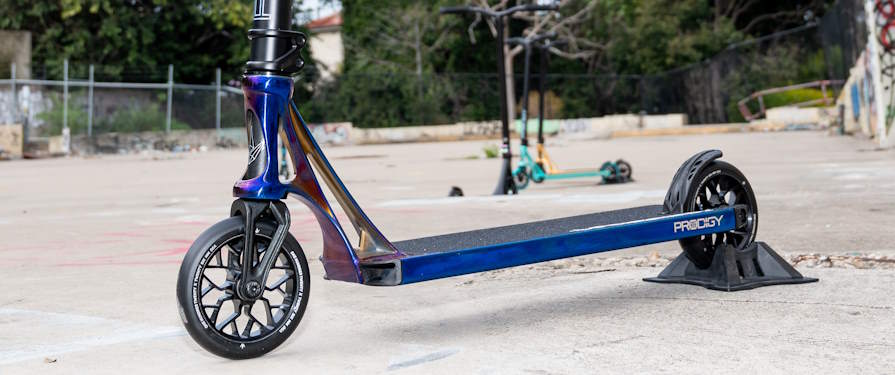 Blunt Prodigy X Burnt Pipe Stunt Scooter Specs:
Total Height 865mm/34"
Total Length 690mm/27.2"
Bar Height 620mm/24.4"
Bar Width 560mm/22"
Deck Length 495mm/19.5"
Deck Width 127mm/5"
Compression Type IHC
Foot Space 345mm/13.5"
Weight 3.26kgs/7.2lbs