Out of stock. Sorry, This item is now Discontinued.
New in for 2018 is the new Madd MGP VX7 range and here we have the VX7 Team Limited Edition in Double Black and Neochrome. The VX7 looks back to the VX5 and VX6 Team Limited Edition when it comes to styling, as it has a black deck with black bars. The other big change is the deck going bigger and also the new DDAM M3 alloy fork added on.
Flash Black Friday Promotion! Just for 24hrs on this Scooter!
The deck on the VX7 Team is made from 6061 T4 and T6 heat treated alloy to create a lightweight scooter that is built to last. The inner of the deck is fluted to remove weight but maintain strength to make the deck easier to ride. It measures in at 4.5" wide, making it easier to catch trick when boosting high and 3 degrees of concave to aid flicking whips now slightly longer at 20" long too.
The bars on the 2018 MADD VX7 Team Scooter measure in at 24" high and 23" wide. They are oversized bars made from 4031 Japanese Chromoly steel which is tough as nails and will last you a long time! They are fitted onto Madd's own threadless fork along with a Madd MFX sealed headset. This means you will have one of the smoothest spinning scooters at the skatepark.
The MADD Team Limited Edition 2018 VX7 in Double Black Neochrome comes with 110mm alloy core wheels standard fitted with ABEC 9 bearings which means you will be rolling faster for longer.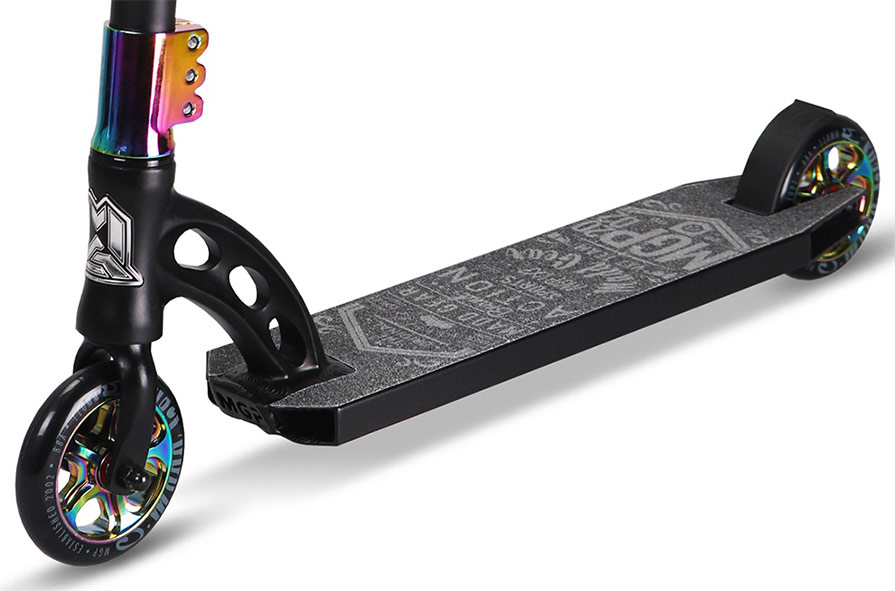 Features of the Madd MGP VX7 Team Edition.
Deck: 4.5" wide x 20" long VX7 Team Edition, 6061 T4 and T6 Heat Treated Alloy, Fluted with 3 Degree of Concave
Bars: 24" H x 23" W, 4031 Japanese Chromoly Oversized Fluted with 3* Concave
Fork: DDAM M3 120mm Threadless 3D Forged Alloy