Out of stock. Sorry, This item is now Discontinued.
Related Products
New in for 2017 are the Madd MGP VX7 range and here we have the VX7 Team Edition in Red. The VX7 looks back to the VX6 and previous Team Editions when it comes to styling and reliability. The big change coming with the VX7 Team is the deck going bigger and also the new DDAM M3 alloy fork added on making this an amazing value scooter for the spec.
The deck on the VX7 Team is made from 6061 T4 and T6 heat treated alloy to create a lightweight scooter that is built to last. The inner of the deck is fluted to remove weight but maintain strength to make the deck easier to ride. It measures in at 4.5" wide, making it easier to catch trick when boosting high and 3 degrees of concave to aid flicking whips now slightly longer at 20in long too.
The bars on the MADD VX7 Team Scooter in Red measure in at 24" high and 23" wide but don't worry if you think that this is too big as they can easily be cut down to fit. They are oversized bars made from 4031 Japanese Chromoly steel. They are tough as nails and will last you a long time! They are fitted onto Madd's own threadless fork along with a Madd MFX sealed headset. This means you will have one of the smoothest spinning scooters at the skatepark.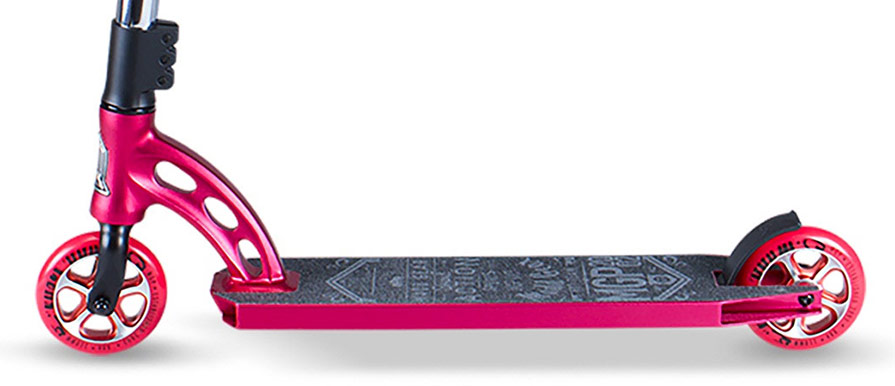 The MADD Team Limited Edition VX7 in Red comes with 110mm alloy core wheels standard fitted with ABEC 9 bearings which means you will be rolling faster for longer.
Features of the Madd MGP VX7 Team Edition Red Scooter:
Deck: 4.5" wide x 20" long VX7 Team Edition, 6061 T4 and T6 Heat Treated Alloy, Fluted with 3 Degree of Concave
Bars: 24" H x 23" W, 4031 Japanese Chromoly Oversized Fluted with 3* Concave
Fork: DDAM M3 120mm Threadless 3D Forged Alloy
Grips: 150mm TPR Grind Grips with Nylon Bar Ends
Wheels: 110mm 88A Filth Alloy Anodised Core with High Rebound Urethane
Clamp: Madd Triple Clamp
Brake: MADD MGP Composite Blitz Brake
Bearings: K2 ABEC 9 Chrome Bearings
Headset: MADD MFX Sealed Headset
Weight: 3.9Kg