New in, the Ryan Williams ( R Willy ) Signature Complete Scooter in Black and Gold has just landed here at ATBShop.
Unboxing it was a pleasant surprise. I mean WOW, this thing looks like a completely different design to any scooter I have seen. Ryan got really involved with the design so the specs of this thing is really top notch! Its been designed with pretty much every style of riding in mind so whether it's technical, park or street this Ryan Williams Sig scooter has got you covered.
Designed by Ryan Williams himself, the signature R Willy scooter has been released in collaboration with Nitro Circus which i'm sure needs to introduction. Ryan Williams is without a doubt one of the most influential names in the scooter scene. Touring the world with Nitro Circus he has made a huge name for himself performing some of the biggest, and best tricks taking scooting as a whole, to the next level. The legend from Australia has put the whole Nitro Circus range through their paces at the Nitro Testing Grounds.
From top to bottom we have Districts super nice grips fitted onto the signature alloy matte black Y bars landing in at in at 635mm x 635mm bars with strengthening across the top to keep your bars from bending. A contrasting gloss black SCS clamp binds the alloy fork, fitting up to 120mm wheels. Fully Sealed headset keeps things moving freely minimising dirt and grit from entering the headset.
The Ryan Williams ( R Willy ) Signature Complete Scooter features Gloss black 120mm alloy core wheels are a massive 28mm Wide boasting screaming grip when it comes to cornering, keeping you rolling faster and further for longer. The anodised gold deck sits at 540mm X 130mm with square boxed rear ends and reinforced drop outs.
"I've made this deck to cater for every single type of riding"

- Ryan Williams.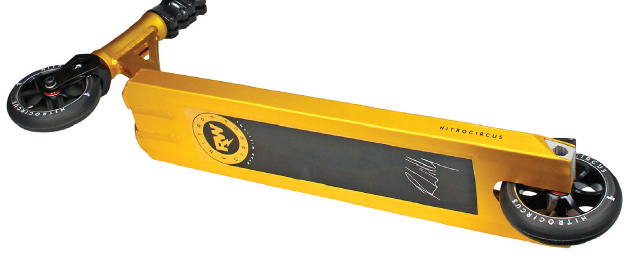 The scooter overall is a matte black bars, gloss black, forks , clamp and wheels and anodized gold deck (which looks great and top dollar) complete with the subtle Nitro Circus x Ryan Williams graphics. Nitro have blessed us with a very sleek designed SCS compression clamp to hold everything together which makes maintaining the scooter very easy and no problem for anyone. Fully integrated headset keeping those bars spins nice and smooth.
Specifications of Ryan Williams ( R Willy ) Signature Complete Pro Scooter in Black and Gold
Grips - District Soft Grips
Bars - 635mm X 635mm Alloy
SCS Clamp in Gloss Black
Alloy Fork fits up to 120mm X 28mm Wheels
120mm X 28mm Alloy Core Wheels
540mm X 130mm Boxed End Deck with Reinforced Drop Outs
Not sure you need such an advanced scooter but love how it looks? Check out the scaled down replica here