In Stock & available for UK next day delivery
The MBS Colt 90 X brake mountainboard is basically the new Colt 90 board but with a fitted brake unit making it easier to stop in tight runs. The MBS Colt and Atom range before have been the entry level boards in MBS's range for years. They have always offered great value for money and performance for riders starting out mountainboarding and kiteboarding. The new Colt 90X has seen some amazing upgrades this year and really shares only a name with it's older boards.
The Colt 90X deck has been redesigned with a nice smooth concave under the feet to keep you locked in but still a standard maple laminate deck to keep the cost down. The trucks have upgraded now to 12mm Axles for extra strength and to fit standard bearings. The Wheels are now new FiveStar design making them look good and be super light. The tyres and tubes have also been upgraded to give real T1 tyres and high grade tubes to reduce punctures. The bindings are still the F1 velcro bindings which are awesome at coping with small to large feet in comfort. Finally on the Colt 90X there is the brake unit this works from a hand lever to give pressure on the wheels to slow the board. This is not like a bike brake that stops you quick this will trim speed and come to a stop gently. If there is wet on the brakes this will affect the performance and also if the brake is hit it can stop working so it's important to learn how to stop without the brake and not rely on it.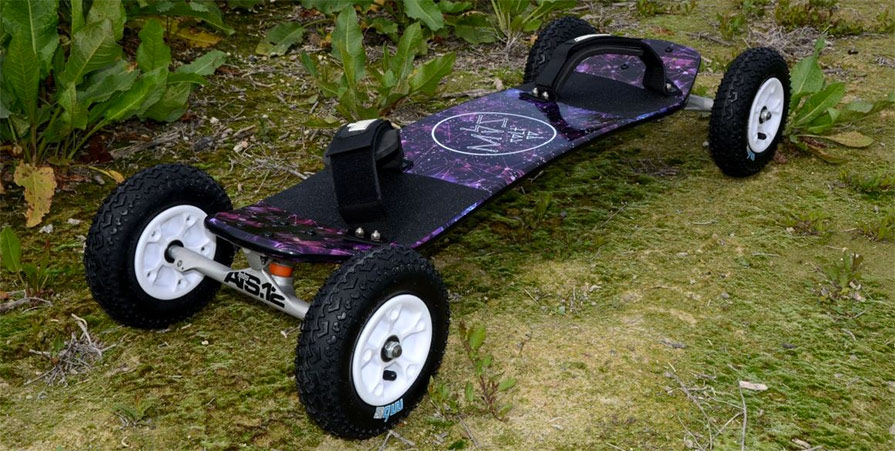 MBS Core 90X Brake Mountainboard Specs:
Rider Style: Learning to Mountainboard / Freeride
Overall Weight: 6.6 (kg) / 14.6 (lb)
Overall Length: 105.2 (c) / 41.4 (in)
Axle to Axle Length: 85.2 (c) / 33.5 (in)
Deck Construction: Maple
Deck Stiffness: Stiff
Deck Tip Angle: 20 degrees
Deck Length: 90.2cm / 35.5 (in)
Deck Width: 22 cm / 8.7 (in)
Truck Type: ATS. 12 Skate Trucks
Suspension: Orange Medium Bushing
Axle Width: 40cm
Axle Diameter: 12mm (Solid)
Hub Type: FiveStar White
Accepts Bearing Size: 6001 - 12x28mm
Tyres: T1 (8") - 200x50 Black
Bindings : F1 Velcro
Brake Compatible:Yes
Brake Included: Yes