Out of stock. Sorry, This item is now Discontinued.
Related Products
The Blu Wave 10ft 6in iSup Wave Rider inflatable SUP was designed and inspired from Blu Wave's range of wave rider hard sups to make it super versatile in all water conditions. This paddle board is super stable and solid and at home on the sea or the river or lake. Being 6in thick and constructed with a heavy duty double layer PVC drop-stitch construction it is designed and suggested to pump to 14psi but could easily take more. The valve and general construction of the board is maximum durability and performance. There is a removable standard US style solid fin at the back that keeps you riding true and is standard and replaceable easily if damaged or you can upgrade and change the fin size/style. The front of the board has 4 tie-down loops and a bungie rope fitted ideal of storage on expedition.
The overall package on this board is great, even the storage/carry bag is well thought out along with a good quality pump so it's not going to be a problem travelling with this in the car/van or even on a flight. We have been testing one of these on demo for quite a long while now and have been super impressed at the build and use compared to other boards much more expensive. If you want to get your own board to paddle but don't want to break the bank or be disappointed a few years down the line then you can't go wrong with these.
The standard Blu Wave Package comes with board, high pressure pump, carry bag, fin and repair kit. We also have a option of a discounted three piece alloy travel paddle to make a complete package ready to ride or choose your own advanced paddle.
FREE Surf Leash with every board.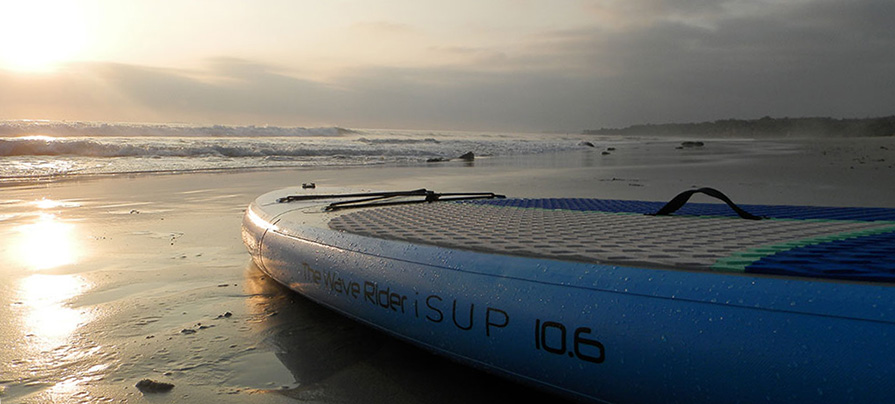 Blu Wave Shapers Notes: All-round shape board that can do it all. Removable centre fin allows you to tailor your fin choice to the conditions for each days unique adventure.
Blu Wave 10ft 6in Wave Rider iSup Specs and Sizes:
Length 10ft 6in
Width 31in
Thickness 6in
Weight 25lbs
Volume: 245 Litres
Beginner Paddlers up to 200lb/90Kg
Advanced Paddlers up to 250lns/113Kg