In Stock & Available for delivery
The Apex Nightfire Custom Scooter is totally new into ATBShop. This Pro scooter is loaded with loads of Pro parts including ODI Pro Grips for a super comfortable ride, Black HIC Apex Bol Bars for strength, stability and performance. These black bars look very stelthy on this scooter, as they have been coupled together with the black Apex deck. The scooter doesn't only look stealthy though, as the minimal variations in colour also make this scooter look very premium. The Bol bars in black are one of the most popular bars we've had in store, so you know your setup is going to be popular!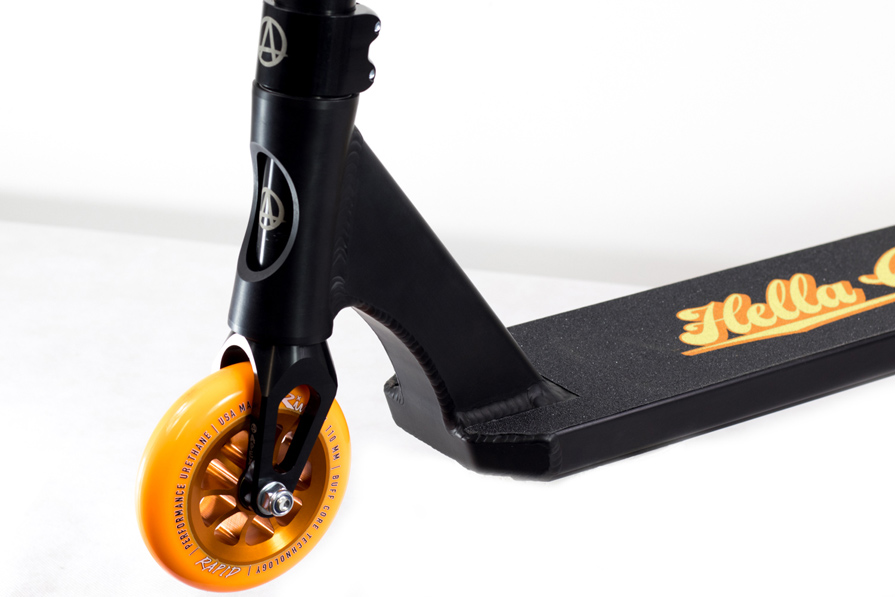 For the compression on the Apex Nightfire Custom, we have used an Apex HIC clamp. Loads of riders this year have moved over to an HIC clamp as the HIC clamp weights less than an Apex Gamma SCS, so if you are looking to save some weight then the HIC system is the way forward.

As for the headset on the Nightfire, we have fitted the top end Apex Headset. We've done this for two reasons. Firstly, Apex headsets are one of the best scooter headsets that money can buy. Secondly, they are one of the only headset which will fit the Apex deck as others seem to have too much play in and wear down quickly. The Apex headset is designed to fit nice and snug withing the Apex deck's headtube.

We've fitted this Pro scooter with a solid black Apex deck which is perfectly built to withstand all the high end tricks. This scooter deck looks awesome especially in the black with the black Bol Bars, Black HIC and Black Quantum fork.

This deck is also finger whip friendly with a boxed in deck – so there aren't any places where fingers could get cut or trapped.

To finish off we have thrown in a set of Orange Pro River wheels. This spike of colour just makes this scooter and looks awesome coming off the black Apex Quantum forms and Black Apex Pro Deck.

Overall this Pro scooter is built to last. It looks good and rides hard – helping you land all those tricks you've been dying to learn.

This scooter is a must for anyone looking to take scooter riding seriously and to really progress into becoming the next pro rider.
Apex Nightfire Pro Custom Scooter Specs:
Apex 600mm Deck Black
Apex Quantum fork in Black
Apex Sealed Integrated Headset Black
Apex HIC Clamp Black
Apex Oversized HIC Bol Bars in Black
ODI Longneck Pro Grips Black
River Rapid Wheels Orange 110mm
River Flash Flood Bearings
Hella Griptape in Orange and Yellow
* Please note that this product is a specialised custom scooter and there for parts maybe subject to change, but will notify you on any changes before dispatch. This scooter can take up to 4-5 days to build as they are built to order.