The New Apex Kraken Pro Custom Scooter is named after the mythical sea beast and is a beast of an Apex Custom Scooter. This Kraken is not a slimey sea beast but a subtle mix of purple and blue Apex Scooter parts that make an awesome Custom Scooter! It looks as good as it rides as the Apex manufacturing speaks volumes for its performance and ability to withstand some of the biggest tricks out there, which is what you need if you are planning to be a pro rider. This is a top of the line Apex Custom Scooter to take your riding to the next level.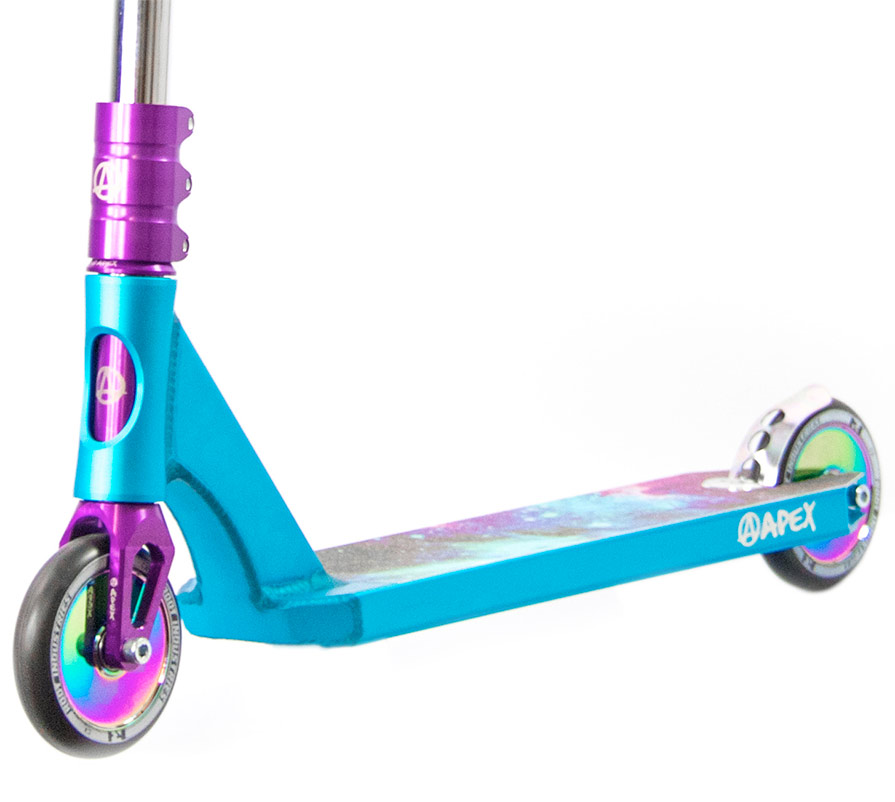 We have used a Blue deck 600mm long for this custom as we feel the purple and blue just fit so well and obviously the blue is one of Apex's most sought after colours. No self-respecting Apex custom would be complete without an Apex Headset. Most shops try and cut corners by fitting cheaper headsets. You can't so this on an Apex – it just won't work! Apex decks must have a fully sealed Apex headset for them to work at their best. This luxury Pro scooter is fitted with Chrome Apex SCS Bol Bars for strength and durability. We selected our most popular grip for this Apex Custom ODI were designed for BMX riders but over the years scooter riders have really seen the benefits so have used them on their latest custom rides. The super soft grips with hard bar ends are our most popular by far!
The forks are obviously the Apex Quantum for strength and weight they are unsurpassed and full CNC construction looks awesome. To keep everything together then we have used the Apex Gama SCS Clamp. This allows a tough tight compression and easy to fine tune your bar height easily by cutting the bars down if needed.
Finally we gripped this up with some wicked cool blunt galaxy griptape. Super cool looking griptape that matches the colours so nice!
You know you are getting the best Custom Pro Apex Scooter money can buy. Overall this Pro scooter isn't the cheapest on the market but after buying and riding this scooter ATBShop feels that you wouldn't want to buy another. Its strong, hardwearing and perfect for becoming the next pro at Scootfest.
Apex Kraken Pro Custom Scooter Specs:
Apex 600mm Deck Blue
Apex Quantum SCS fork in Purple
Apex Sealed Integrated Headset Purple
Apex Gama SCS Clamp Purple
Apex Chrome Bol Bars in SCS
ODI Longneck Pro Grips Black
Root Industries Neochrome 120mm wheels
Blunt Galaxy Griptape
* Please note that this product is a specialised custom scooter and there for parts maybe subject to change, but will notify you on any changes before dispatch. This scooter can take up to 4-5 days to build as they are built to order.