Here we have one for the smaller riders. Loaded full of incredible components, at an even more incredible price. This District X Mod Custom Complete has been hand picked by the ATBShop Team Riders to suit those looking to progress. The colour scheme on this setup is Grey and Blue. Two contrasting colours that go together like bread and butter.
From the top we have Mod Rib grips in black, keeping it low profile. These grips provide superior comfort and performance from the start to the end of your session. The grips sit upon Steel Y bars. These are an incredibly strong and durable set of bars, picked out for the riders that might drop their scooter during practice.
Mod Triple clamp boasts an incredibly low weight and great clamping pressure. An integrated headset keeps the bars spinning smoothly. Sat on top of the Mod Threadless Steel Forks which again are incredibly strong.
This scooter is practically bomb proof
The 100mm District alloy core wheels with District bearings are incredibly smooth riding, and provide screeching grip when it comes to cornering. Districts DK150i Deck is formed from heat treated Aluminium keeping the overall weight of the scooter down. The deck lands in at 4.5in by 19.6in.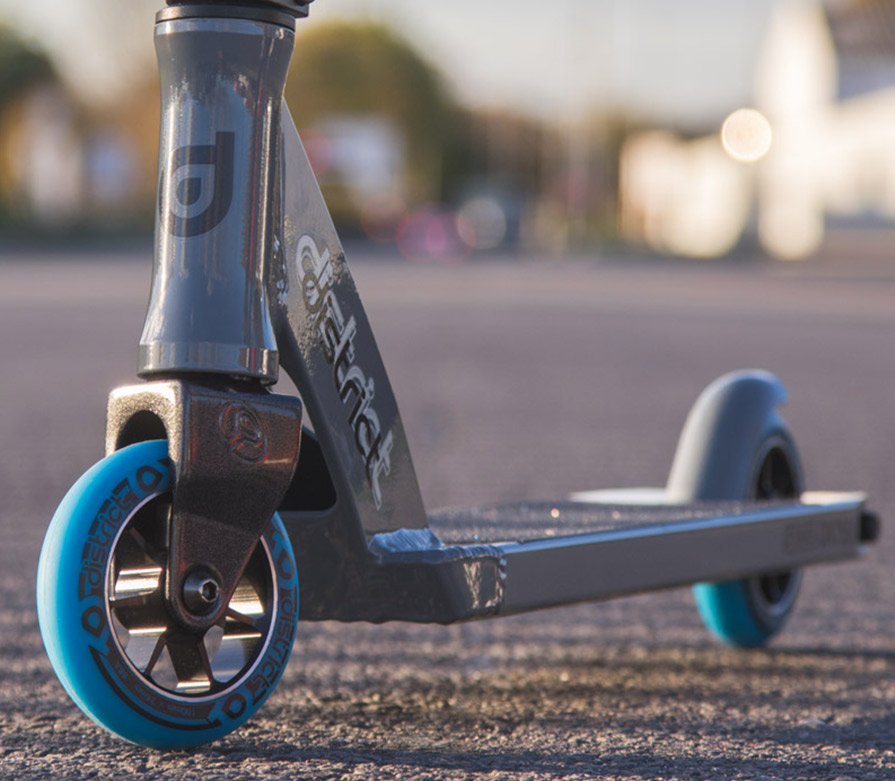 Specifications of the District X Mod DK150i Custom Complete Scooter in Blue and Grey
Mod Rib Grips
Mod Riot Y Bars
Mod Triple Collar Clamp
Integrated Headset
District 100mm Alloy Core Wheels
Mod Steel Threadless Fork
District DK150i Deck 4.5in by 19.6in
District RubberFlex Brake