This FSESC is the smaller size version with pro switch for power control. It still has the same specs on paper as the "big size" twin unit but significantly smaller size and smaller heatsink then it does benefit from a well ventilated and extra heatsink adding if you are going to push a lot of amps through it for a time. It does not come with plugs soldered on for connection so you need to add your own XT90 and bullet connectors or your choice of connections. There is no screw holes for connection to case so it is a DIY fitment unit. The FSESC6.6 is fully compatible with the latest VESC Project firmware. It is built to run 5v hall sensor motors the best and USB administering via PC based VESC Tool software or with the optional Bluetooth RF Dongle then can be setup using Android phone App.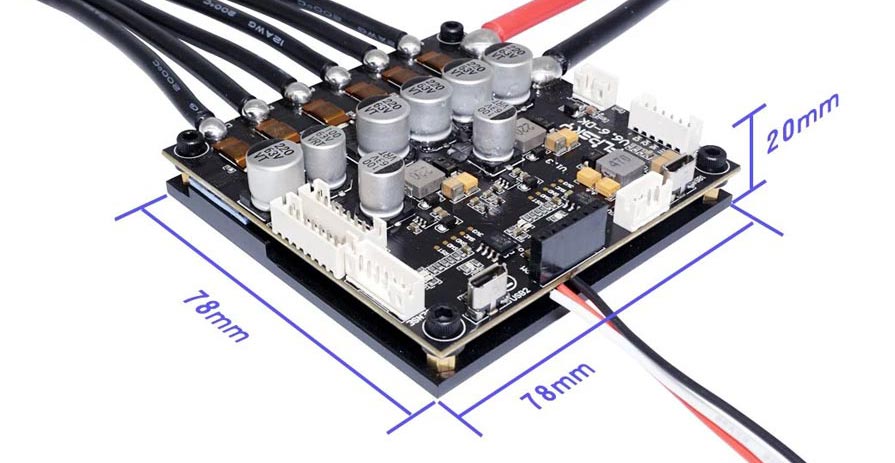 If you are after an inexpensive ESC for a esk8 build then this Flipsky Dual FSESC6.6 is a damn good option. It may not last forever but will get you rolling and certainly packs a punch in terms of power able to be pushed out to big motors as long as cooled well.
2020 new version upgraded features:
Pro switch version:
Power on/off by pressing the button
Added Can bus connector, be more convenient for 4WD set up
Changed the USB port soldering process to SMT soldering instead of manual soldering
Changed the big capacitors to SMT mounting capacitors ,and add more mosfets in the bottom side.
Flipsky Dual FSESC6.6 Plus Pro Switch Spec:
Hardware: V 6.6
Firmware: Latest VESC Tool firmware version 5.1+
Voltage: 8V - 60V (Safe for 3S to 12S LiPo) for the dual ESC
Voltage spikes may not exceed 60V
Current: Continuous 100A single, total 200A , Instantaneous current 400A per single, total 800A for system instantaneous current. values depend on the mounting and ambient temperature around the device!
5V 1.5A output for external electronics for single
3.3V 1A output for external electronics for single
Modes: DC, BLDC, FOC (sinusoidal)
Supported sensors: ABI, HALL, AS5047
ERPM:150000
Size: 78x78x20mm including heatsink
Motor wire: 12AWG
Power cable:8AWG
Reminder: Detected battery voltage tolerance: +/-0.6V
Flipsky Dual FSESC6.6 Plus Pro Switch package contains:
1*Dual FSESC6.6+Heatsink
2*VESC Sensor Wires
1*LED button
1*Micro USB
1*Manual