In Stock & available for UK next day delivery
The Mystic Warrior harness has been a hugely popular harness for the past few years and this is the LEN10 pro rider version for this season. We have been a fan of the Warrior for some time and the LEN10 version this year is an awesome colour match for some of the suits and shorts out there. The Warrior this season does not have quite as much padding or memory foam as the Majestic harness but is still super comfortable and a bit more slim and cut away at the edges to give more movement. There is 3D moulded foam inside that really fills in any gap in the small of the back and locks the harness in below the ribs with comfort. The mystic clicker spreaderbar makes it super easy to get in and out of the harness, there isn't even the extra strap that used to be on the older warriors now it's jus the one clip and the velcro belt underneath and it stays super locked down when the kite is high in the window. The days of uncomfortable waist harnesses are long gone with harnesses like the warrior! Whatever you are riding water, snow of land then this is an awesome harness. For extra security snowkiting checkout the strappies add on with give legstrap support for gliding.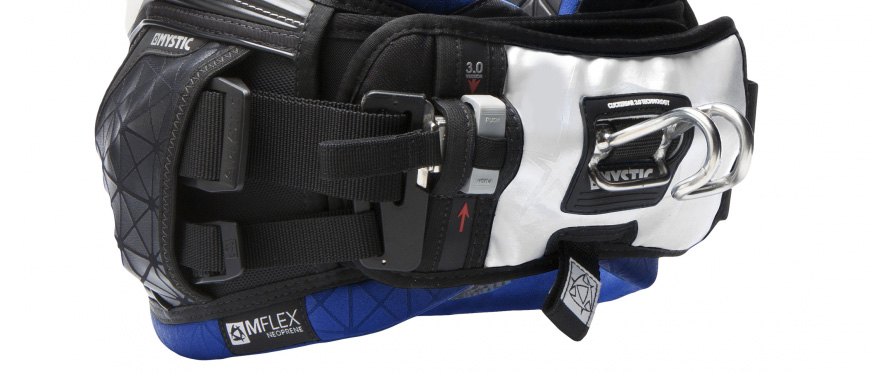 So what is different for the LEN10 harness from the standard warrior? There is obviously the sick colours but also the handlepass system is different with and included a sliding captive swivel to attach the leash to. So apart from giving your support to Ruben by buying his sick harness you do get some differences but if you want a super good and comfortable harness and love the blue and white colours then this is your ideal harness!
Mystic Warrior LEN10 Harness Technical Features
• 3D-moulded foam interior and exterior
• HP system detachable
• HP swivel included
• Covered side part
• Double power leash ring
• Soft neoprene edges
• HP system included
• Multi hook | Clickerbar 3.0 | Low torque fixation
• Spreader protector
• Battle belt waist closure
• Knife included
Mystic Warrior Waist Harness Sizes:
Small: 28/30
Medium: 30/32
Large: 32/34
X-Large: 34/36