In Stock & Available for delivery
Related Products
Completely re-engineered the Liquid Force Solo has now hit the V4 mark of the 2020 range offering a whole new list of features including better light wind performance than ever before, an even further weight reduction offering superior wind range and a more nimble and responsive nature. The Solo V4 is for the rider that seeks freeride perfection with ever turn, every dip of the kite and every wind condition. Foiling dreams where kite and rider work together in harmony to make each session on the water one to remember. Low wind kitesurfing is where the Solo thrives with efficiency offering a smooth and reliable power development that is almost effortless leaving you to think about your riding and not working the kite!

The new 2020 Liquid Force Solo V4 has been genetically re-modified to produce a new breed of light wind performance; starting with a cleaned up conopy profiling for a quicker and more playful movement through the sky, the Solo has also had widened wingtips for better rigidity and turning. In turn this adds a better rear line tension for added response from the kite. A slightly flattened arc offers better low-end performance while a more compact and dynamic bridling now with aluminium sliders opens up the usable wind range while increasing bar feedback giving you complete control in all wind conditions.
For what was already a super light weight kite, Liquid Force have searched high and low for the best way to shave off the weight without sacrificing kite performance and durability, the Solo V4 2020 now uses a combination of the lightest bladders available on the market along with a minimal use of heavy dacron materials with a completely trimmed out build.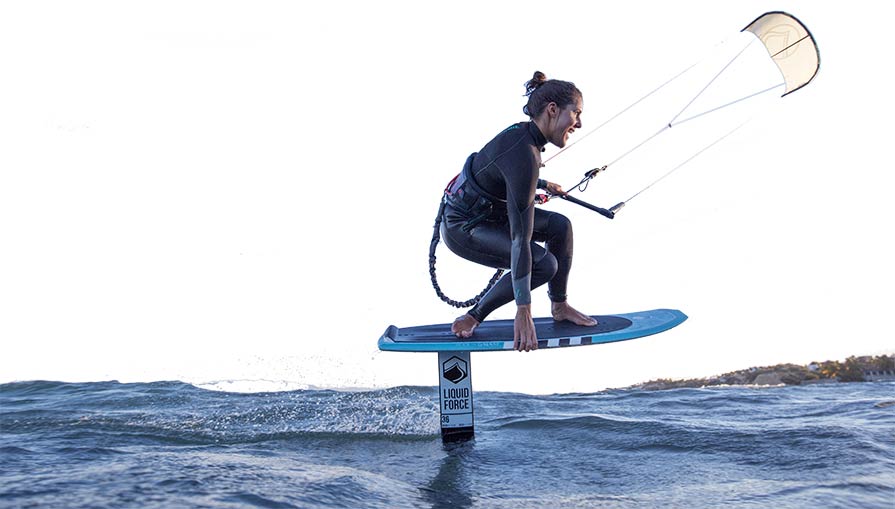 Overall the Liquid Force Solo V4 2020 is aimed at the kitesurfer who is just starting out that doesn't want to spend all their money on multiple kites and just wants one that will tackle most of the conditions, or the Solo V4 2020 is for the freeriding/ foiling addict that enjoys floaty jumps and riding the light winds when know one else can!
| | | | | | |
| --- | --- | --- | --- | --- | --- |
| Sizes (Meters) | 5 | 7 | 9 | 12 | 15.5 |
| WindRange (Knots) | 30+ | 18-30 | 14-24 | 9-18 | 7-13 |
The Liquid Force Solo V4 2020 Kitesurfing Kite specifications:
Ultra light single strut platform
Constant sweep leading edge for direct bar feel and easy relaunch
Ultra light, Teijin technical coated triple ripstop canopy, tear and UV resistant
New dynamic two slider bridle for a more uniform feel when sheeting
Maxflow valve for 40% faster inflation
Tapered leading edge wingtip design
English stitched seams
One pump system
Tension Trailing edge reduces flutter and enhances efficiency
Comes with new Liquid Force Duffle Bag