In Stock & available for UK next day delivery
Last years Envy was the flagship model for Liquid Force Kiteboarding and did everything a free ride/ freestyler could want, however 2017 has seen a new future for kitesurfing with a reduction in leading edge size, change in wingtip geometry and bridling positioning. Ladies and gentleman we at ATBShop are happy to introduce the new Liquid Force NV.
With the performance level you would expect from an absolute monster, you control the reins of this beast no matter your discipline. Turning speed, power development, direct rider to kite control and feel, easy relaunch; all things that make the new NV V8 what it is today. One absolute machine.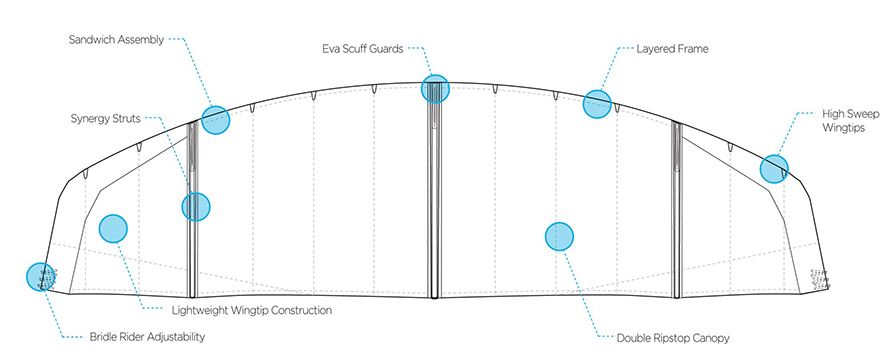 Offering an incredibly diverse wind range after having cut out any unnecessary weight and added a whole new profile and airframe geometry such as more open-C styled wing tips, the NV can move far more efficiently through the wind window with . Liquid Force have also completely redesigned the NV's bridle system and given it a much thinner leading edge so you can pump it up harder resulting in another decrease in weight and an increase in the kites turning speed, stability and responsiveness.
Still holding its legendary flagship position as an incredibly diverse and bombproof kite, the new NV suits the needs of any rider looking to get that feeling of a performance level kite whether you are a freestyler, wave seeker, old skooler or just a weekend warrior. The Liquid Force NV is the new future in kiteboarding and will not disappoint. Period.
The Liquid Force NV Kitesurfing Kite tech specs:
New and improved airframe geometry
Better turning speed
Thinner high pressure leading edge
Max Flow inflation system
EVA Scuff guards
Tapered leading edge tips
0.1mm TPU bladders
Leading edge English stitch seams
Snadwich essembly
One pump system
Synergy strut
High sweep wingtips
Rider adjustability
Layered frame
Tension Trailing edge
three strut design
Teijin single ripstop canopy