In Stock & available for UK next day delivery
There was a lot of speculation behind the Wow when Liquid Force first released the specs and raised a few questions; considering LF's NV is titled their three strut, free ride and freestyle kite whilst the Solo V3 as their beginner, light wind and foiling, single strut kite. Where and how does the Wow fit in and why is it called the Wow?
Well... after much riding and researching, followed by further riding, we settled on the idea that Liquid Force may have developed one of the most revolutionary wave kites available on the market today with it's incredible pivot turning that wont throw you off the top of the board. Effortless looping with the Wow V3 enables quick and clean transitions and carves whilst riding where you want to go on the wave, not where the kite wants to take you. The Wow's exceptional manoeuvrability and responsiveness also compliments its graceful drift which allows you to ride long and shred hard down wind without the kite going Hindenburg on you.
BUT WAIT- There's more! The Wow V3 Kite is not just a surf kite and in fact presents many characteristics of your high-end free ride kite including; a slimmer leading edge to reduce weight and allow the kite to sit at the far corners of the window making for incredible upwind performance for regular riding and foiling! With its boosting lift and chilled out hang time, you can easily cushion your landings with gentle down loops without the fear of them sending you flying. With full bridle adjustment like on the envy you can dial the kite into what you want it to do for you, more lift? quicker turn? loop or pivot turn? What do you want your Wow to do?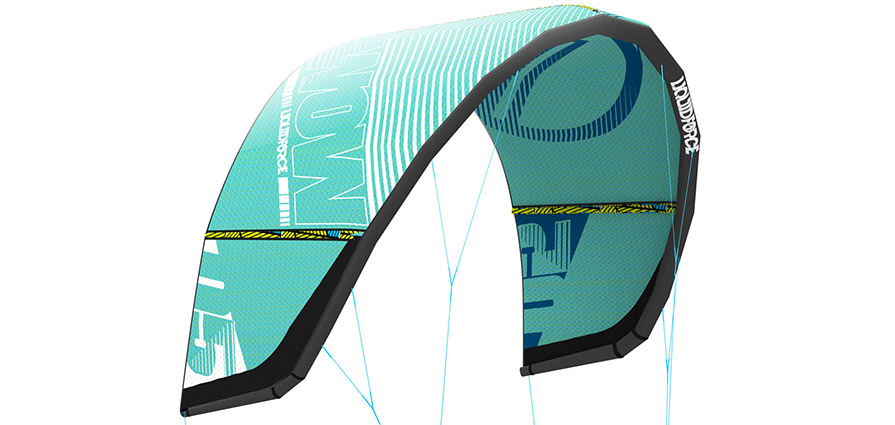 Now in its 3rd generation Liquid Force have eliminated any unnecessary leading edge weight offering a larger wind range than its previous models. Increased depower range allows you to instantly scrub off power and ride the part of the wave you so desire for longer while a refined bridle schematic and tweaks to the leading/ trailing edge offer increased pivoting capabilities for more precise manoeuvrability.
Featuring Liquid Force's recognised bomb proof construction, the Wow is designed to take a beating from whatever you or the wave your riding can throw at it leaving you with an elegant, gentle yet boosty and exceptionally manoeuvrable wave/ free ride kite. Now that is why it is called the Wow.
Liquid Force WOW V3 Kitesurfing Kite Specifications:
Lightweight 3 strut platform
Low profile leading edge
Challenge Sail Cloth laminated triple ripstop canopy with abrasian, tear and UV resistance
Pullyless bridling
Liquid Force Max Flow Valve
Tapered leading edge tips
Single point inflation
English stitched seams
Tension trailing edge
Liquid Force Wow V3 Kitesurfing Kite wind range