Out of stock. Sorry, This item is now Discontinued.
Related Products
A totally new shape from the Catalyst V1 kitesurfing kite, the Ozone Catalyst V2 has now been redesigned to produce a much more forgiving and smoother power delivery resulting in more effective progression while producing longer and more floaty jumps.
Somewhat similar to the older generations of kites only with a few tweaks that make this kite fly like nothing else that has hit the market previously. The similarities we have found were the same three struts, material and that flawless build quality that Ozone continue to provide! The older Catalyst has always been one of our favourite kites in store, especially over the last couple of seasons.
It has much more delta'ish style look than the V1 with the shortened and swept back wingtips resulting in a remarkably smooth bar feel with loads of depower in the bar throw. With a big belly and smaller wing tips the Catalyst V2 is incredibly stable in a huge variety of conditions and like the V1 offers an outstanding wind range giving you more opportunities to get out on the water with the sizes you have. It is for this reason that Ozone have changed the sizing around for this seasons model to which this years 11m should cover you in the range of conditions in which you would usually use a 12m in.
The Ozone Catalyst's light wind characteristics also makes the V2 the perfect choice for surfboards and hydrofoils! It has been badged by Ozone as a kitesurf kite for beginners HOWEVER don't write it off if you are an intermediate rider as this kite still has some lift and loads of performance when you need it. This is a super easy kite to fly and that makes riding fun.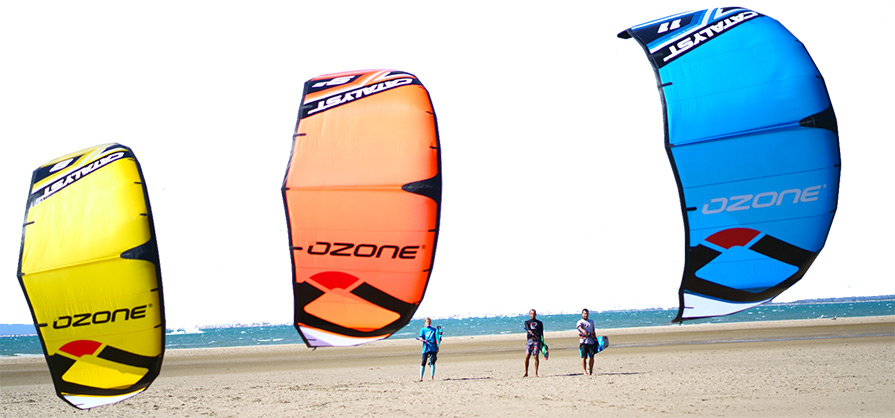 So if you want a solid and smooth kitesurfing kite to work on your hooked in freestyle or other laid back disciplines such as surfing or hydrofoiling then this is the perfect kite for you. You don't have to think about flying the kite as much. Its rounded shape offers effortless water relaunching as it just doesn't seem to want to stay on the water once down. Tie all this in to the other standard Ozone kite features like the D2 canopy fabric, Ozone's legendary build quality, Ozone Contact V4 bar with the industries easiest Click In chicken loop and single flag out line and this kite is one amazing package.
Our review at ATBShop of the Ozone Catalyst V2 is very favourable. Although it seems at home on the water, it is also a pretty damn good landboarding kite. As a result the smooth power delivery gives you plenty of time and stability in your tricks while we found that the kite has really good float there for won't drop you like a stone if the redirect wasn't at the perfect time.
We love this kite for stomping upwind and found the super easy relaunch (even in light winds) makes recovering from those messed up landing effortless.
So although the Ozone Catalyst V2 won't set the super experienced riders blood pumping as quickly as the Edge or the C4, it does have a great place in the Ozone line-up for many riders. Especially recreational riders that want to enjoy their ride and progress their riding without fighting the kite or taking a beating for that matter.
So what sizes kitesurf kites should I get in my Quiver? The Catalyst V2 comes in 5m, 6.5m, 8m, 9.5m, 11m and 13.5m. The 5m and 6.5m are primarily for much smaller riders, teaching use or for nuking high winds.
The most popular three kitesurf quiver for an average rider will be the 8m, 11m and 13.5m.
If you are looking for a two kite quiver then the 8m and 11m will be the best for total wind range while the 13.5m acts as an excellent light wind kite later down the line. Heavier riders should move up a kite size and use the 9.5m and 13.5m quiver for great wind range. But add the 8m if they like high wind flying!
Ozone give the following guide for wind ranges but they always vary a bit with rider weight, board size and rider experience on the water:



Ozone Catalyst V2 Kitesurfing kite Features:
Fun, easy and intuitive to fly
Large wind range with progressive de-power
Simple and quick re-launch
The kite of choice for entry level to intermediate riders and fast progression to take your riding to the next level
Single Line Flag Out – stops all power in the kite
Unique Leading Edge arc and sweep
4-line pulley-less system (no pulleys, no problems)
Comparable feeling throughout the size range
One-Pump system for quick and easy setup with High volume inflate/deflate valve
Trimming options for customised turn speed and bar pressure
Colour coded and numbered fool proof line connectors
Exceptional hand checked Ozone factory construction using the highest quality materials wind range and bar size
Teijin TechnoForce D2 canopy material
Teijin Dacron for the Leading Edge & Struts
Internal reinforcements
Double stitched folded seams
Load distribution panels
Direct connect struts
Reinforced trailing edge
Low profile aerodynamic scuff pads
Unique bladder construction
Anti-snag line deflectors
Tuned bridle geometry
One pump inflation system
High volume inflate valve
Anti- flap battens