In Stock & available for UK next day delivery
The Ozone Catalyst has been a favorite kite from Ozone for many years, it has a few large design changes over the years and this year is one of those. Compared to the V2 Catalyst then there is nothing the same apart from being a fun kite to fly. The new V3 Catalyst comes from the Alpha V1 design with refinements for extra durabiliy and accessability for entry level to intermediate riders. The kite is super lightweight with just one single strut in the canopy but doesn't make it hard to relaunch or overly flappy in the sky. Just if the wind drops then the kite doesn't fall out the sky! With this light weight and easy handling then it is super good for beginners coming out of lessons and also confidence inspiring for experienced riders people getting into foil riding where you would be riding a smaller kite in lighter winds so weight is important. The Catalyst is not just to be pigeonholed into a beginner kite it still jumps really well and smoothly and is almost an autopilot kite when learning new tricks and techniques.
Packing away small and light is also a big bonus for travelling to enjoy tropical locations. Just space for a couple of kites? The catalyst is perfect for this!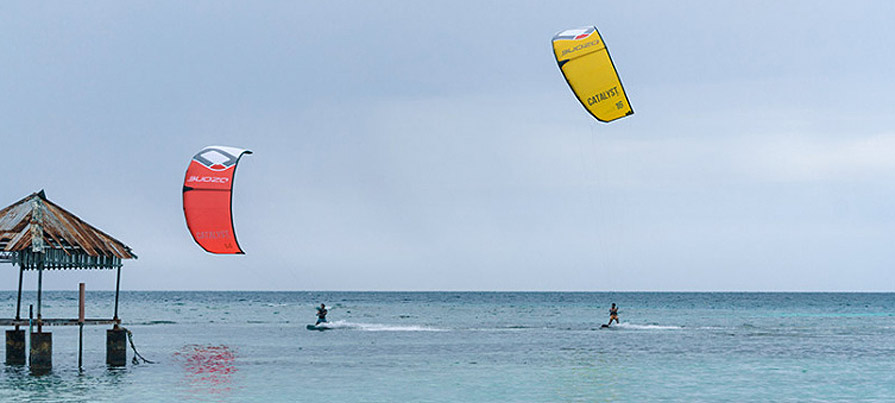 The Catalyst V3's water relaunch needs to be tried to be believed and it just doesn't want to stay on the water! Check out the video below just turning the bar or using the relaunch balls on the leader line and the kite rolls over to re-launch position. The tried and tested front line flag out release system is super simple and safe and the same as used on all Ozone kites. With the V4 Click in Bar then it's just such a simple and reliable system!
New material for the new kites, the new Triple rip-stop material is 15% stronger with reduced elongation and stretch and new ultra flex coating then it improves feedback in gusts and makes a smoother ride. The new Dacron is also triple ripstop and super tough for durability. The one pump and inflation system has also had an overhall with almost twice the airflow so gets you riding faster and pack down quick and easy.
A huge smile factor comes standard on the Catalyst V3 - it's a fun and easy kite to ride that will make your progression in the sport fast, safe and enjoyable.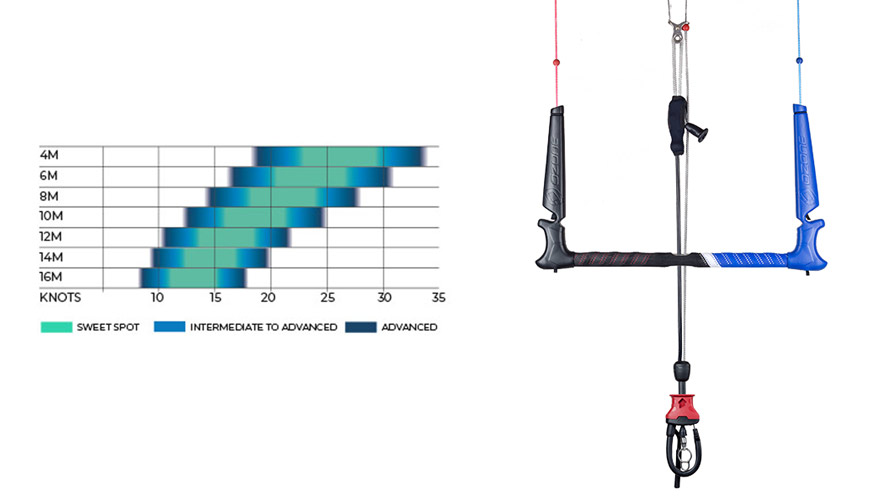 Perfect for beginners wanting to progress, even if just out of your lessons the Catalyst will nurture you and make you progress faster and more comfortably than you would imagine possible. The easy relaunch and depower make it great for land and water use and you won't grow out of it in use for years so you don't have to fear upgrading.
Freestyle with the Ozone Catalyst is awesome it performs great at boosting big floaty old school style jumps when you send it and dig in hard or controlled transitions with ease. Loop it hard and it gives plenty of wang an float out of the loop. Unhooked then the kite is still solid and easy handing giving C style feel and stability.
Wave riding with the Catalyst the quick handing, de-power and float opens up great opportunity in the wave. Surf Freestyle is easily possible due to the progressive handing and smooth lift without punishing the strapless rider. The Catalyst is not a pure wave kite as the Reo does that job but for riders wanting to ride waves surfboard and twin tip riding the Catalyst really fits the bill.
Ozone Catalyst V3 Performance Features
Exceptional Ozone Factory Construction – World-class construction in our own factory, using the highest quality materials and hand checked Quality Control at every step. The Ozone factory also manufactures our Paragliding and Speed Wing range; the same Quality Control processes are used across all products.
Designed With OZ-CAD – The FUTURE is NOW – All Ozone kites are designed and developed using our own highly advanced custom built CAD software. Our designers are able to work with features specifically tailored to the unique forms and structures of technical Inflatable and foil kites. Part of our design team is dedicated to the upgrade of the CAD code and addition of new modules and features to the program as the development of our kites continues.
Teijin TechnoForce Triple Ripstop canopy and Triple Ripstop Dacron – Teijin is the world's leading supplier of technical performance materials for marine sports, setting the benchmark in quality with proven superiority in dynamic strength and durability.Our new triple rip-stop canopy material is 15% stronger with reduced elongation characteristics and features an advanced ultra flex coating, further enhancing our unique Ozone feeling making for a smoother ride especially in gusty conditions.The new technical triple rip-stop dacron is incredibly strong and reliable. It's used in areas requiring rigidity and stability, the leading edge, struts, wingtips and reinforcement areas.
4-Line Pulley-less System – NO pulleys, NO problems. We design all our inflatable kites without pulleys, to inherit the unique Ozone feeling and performance across our range.
Internal reinforcements – What's on the inside counts too – All Ozone kites are internally reinforced for improved strength and durability; such as a Double layered Dacron + Insignia taped Leading Edge closing seam with high strength threads.
Double Stitched Folded Seams – Sail canopy seams are stitched, folded, and then stitched again for a clean and strong connection of the panels.
Load Distribution Panels – Dacron reinforcements are used on all loaded areas for enhanced load distribution. This means all loads are spread evenly into the sail ensuring the kite flies and performs at its best.
Direct Connect Struts – Our Direct Connect construction method improves load distribution between the Leading Edge, Struts and Canopy. The Struts are connected directly to the Leading Edge with internal reinforcements and external webbing. This unique construction method ensures clean profiles are maintained with the optimum canopy tension
Reinforced Trailing Edge –Double layer Trailing Edge strip with an internal light weight Dyneema reinforcement – this reduces canopy wear and helps to maintain optimum Trailing Edge tension as designed. The Dyneema line also reduces any potential stretch at the Trailing Edge.
Low profile aerodynamic Scuff Pads – Leading Edge bumpers are often large and unnecessary cosmetic items. At Ozone we build our kites for performance and durability using the best materials & components available. Any areas requiring scuff protection we use a lightweight durable material with superior abrasion resistance, while keeping a low profile in order to reduce drag and maintain performance.
Unique bladder construction – Our bladders are constructed in-house with advanced custom built welding machines. Double layered sections are applied to any potential wear areas.
Anti-Snag line deflectors – The Anti-Snag line deflectors prevent bridles and lines from tangling around the wing tip. Safety is increased when launching with a partner and water re-launch is made easier.
Tuned Bridle Geometry – We work extensively during our R&D process to develop the size range to feel in tune with each other. Every kite has a unique bridle layout, individually tested and fine-tuned to maximize the feeling and performance.
4-line Pulley-less System – NO pulleys, NO problems. We design all our inflatable kites without pulleys, to inherit the unique Ozone feeling and performance across our range.
One-Pump Inflation System – The One Pump inflation system enables quick and easy setup with single point inflation of the kite. All Struts are connected to the Leading Edge via inflation points – air will flow through the hose to inflate the entire kite. Clips seal the hose connecting the Struts and Leading Edge to prevent unwanted airflow in case of damage.
High volume inflate/deflate valve – A high volume valve makes inflation and deflation quick and easy. Pumping is a breeze thanks to the high airflow rate, while the internal seal engages to stop any air coming out under pressure. Unscrew the bottom of the valve to deflate and pack your kite with ease.
Fool proof line connectors – Fool proof, colour coded and numbered line connectors prevent incorrect rigging of the flying lines to the kite.