In Stock & Available for delivery
The Slingshot Turbine has been proven as one of the best light wind kites ever made and now for the new season then Slingshot has widened the range up to have a Turbine for all conditions! The Turbine is the High Aspect High-Efficency kite in their range which gets the most from any wind condition and is super high performance. At first look at a photo it shares some of the look with the Rally with the swept wingtips but then the differences stop. Much higher aspect (longer and thinner) with a high performance and high lift profile built in. This makes it amazing upwind and great for boosting lofty airs. This is the inflatable race kite and the old school floaty kite and awesome on a hydrofoil!
Slingshot Turbine Kite Characteristics:
• High-aspect, high-efficiency platform in a full range of sizes
• High-performance handling for intermediate to advanced riders
• Shape and aspect favor speed and superior efficiency
• Unrivaled upwind tracking
• Massive airs, lofty hangtime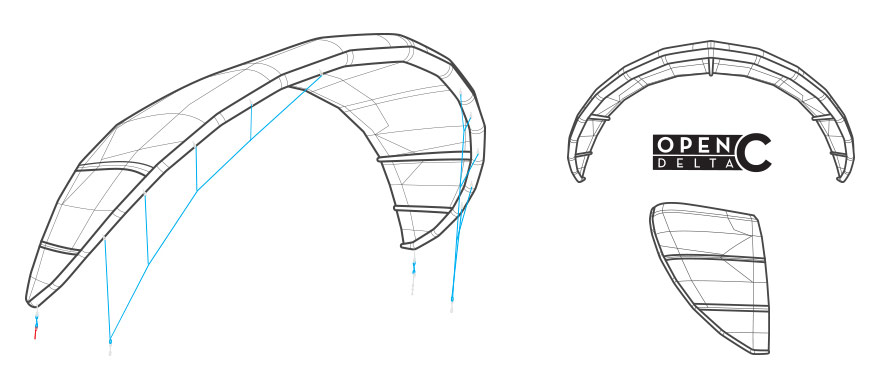 As the kite gives different slightly different riding characteristics across the size range we can split it into three sections:
Kite-down: The Turbine is a high-power kite. For that reason, we recommend kiting down at least one size from what you would normally ride.
15, 17, 19 meter: The proven light wind kite of choice for riders of all abilities. The Turbine's high-aspect, high-efficiency profile gets you out and riding when others watch from the shore hoping for the wind to pick up.
11, 13 meter: Perfect for intermediate to advanced riders who want a massive dose of spice on those moderate-wind days, or as a full light-wind kite for smaller riders. This range yields long, lofty airs, aggressive upwind angles and more power than any kite of the same size.
5, 7, 9 meter: Massive air, lofty hangtime and aggressive, high-power freeride performance. Described as "a Rally on steroids", this size range is perfect for experienced riders who are ready to take their riding to the next level, and for foilers looking for competition-level performance out of a small kite.
Improvements in the Turbine include a reduced aspect ratio and leading edge diameter, resulting in a reduction of weight for further power generation and grunt without sacrificing up wind performance, turning speed or efficiency. Others upgrades include Slingshot's all new split strut technology for increased aerodynamics, stability and rigidity resulting in efficiency and power enhancement under heavy loads! To finish it all off we have a one pump speed inflation system with a more convenient valve connection to get you on the water quicker!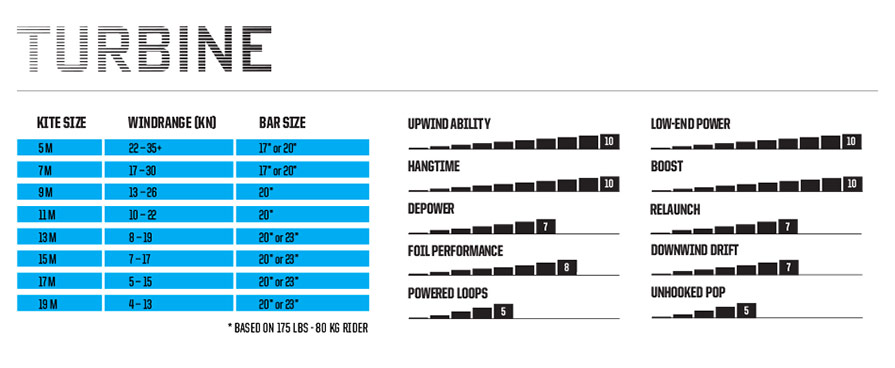 The Compstick Sentinel Bar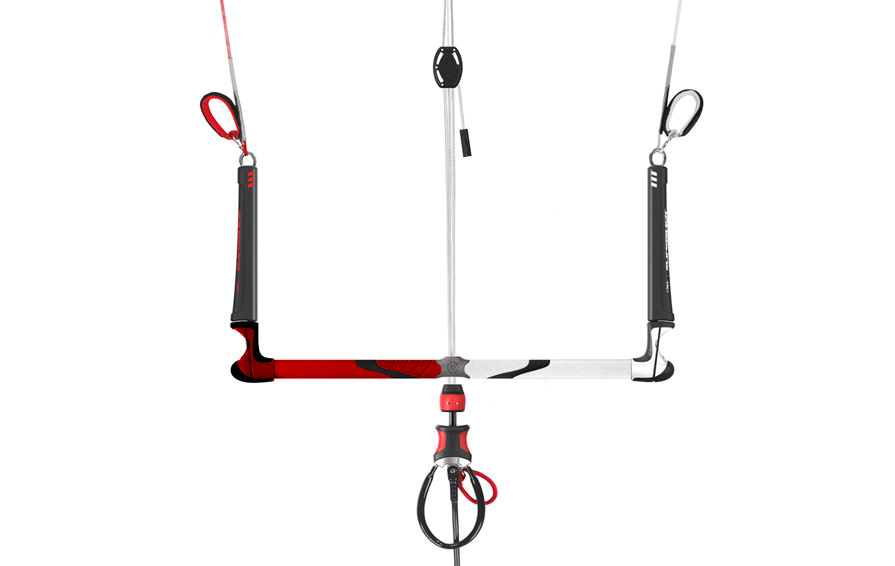 Complete with Slingshot's Compstick Bar featuring Sentinal safety technology, the primary focus has been divided up into three specific areas;
1. Flight Control - Above the bar, 2. Compstick - At the bar, 3. Rider Control Centre - Below the bar. Each area has been optimised to work in complete harmony with one another creating the ultimate in responsiveness, ergonomics, safety not to mention aesthetics and minimal clutter!
Please note: The Guardian Compstick Bar is available with a below the bar trim. Please contact us for more details.
The 2016 Slingshot Turbine features:
Open Delta-C design platform
Split strut intergrated design
Connect forward
Wing tip struts
Low-profile wingtips
Additional attachment point
Auto-trim trailing edge
Cascading 5 point bridle
Reflex wingtip
Pulley-less bridle configuration
Trailing edge shape
Tri-tech protection
Surf tough seams
Legendary Slingshot construction
Slingshot one-pump
Lifetime rider support hotline
One pump speed inflation system