In Stock & available for UK next day delivery
The all new 2019 Grit Elite Scooter in Rose Gold and Black is a stunning addition to our ever growing collection here at ATBShop. Featuring a new and improved, re-inforced head tube, a triple fluted deck for even more strength and for the first time ever, boxed ends.
New Grit Ribbed Grips provides the perfect balance between comfort and durability. Grit have provided this scooter with Alloy Tapered Y style Battle Bars. The clamp on this scooter is the sleek new alloy double clamp.
On the lower half of this scooter we see the High Tensile HIC fork and a fully sealed headset. HIC is the easiest compression system to maintain and keep your ride running smoothly. 110mm Cast Core wheels feature a duromiter of 88a which provides you with screaming grip but the excitement doesn't stop there. Grit have added a new CLEAR PU.
The Deck on this scooter lands in at 4.5in wide and 19.5in Long. This makes it ideal for the smaller, or more technical riders that aspire to ride both street, and park whilst maintaining the same scooter. Finishing off this scooter we have been blessed with a new, stronger, Flex Fender.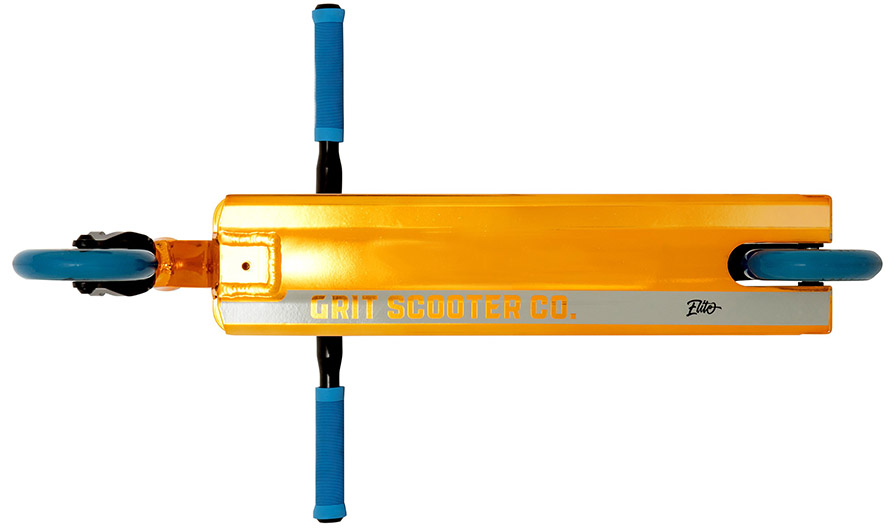 Specifications of the Grit Elite in Rose Gold and Black
Grit Ribbed Grips
Hydro Formed Alloy Battle Bars 22in Wide by 23in Tall
Alloy Double Clamp 34.9mm
High Tensile HIC Fork
Integrated Sealed Headset
Heat Treated Alloy Deck 4.5in by 19in
Alloy Core Wheels 110mm with NEW Clear Blue PU 88a
Grit Flex Fender
3.44kg Total Weight