Out of stock. Sorry, This item is now Discontinued.
The MGP VX7 Extreme Limited edition in Bubbles is Madd's upgrade from the VX6. Along with new upgraded parts, Madd have introduced a new set of limited edition colours and graphics to their scooters, creating a more unique design. Each VX7 Extreme has been hydro-dipped with a graphic making each scooter unique. This means that no two VX7 Extreme's will be the same. You will be the only person with a scooter exactly like yours!

When it comes to the upgrades on the VX7 Extreme, it has the all new alloy fork and new 120mm switchblade wheels. The VX6 Extreme was super high spec anyway so it's hard to improve but MADD have managed it! The Alloy Aero bars look amazing and retain their strength while reducing weight. Onto these, Madd have added a premium double clamp. There is the new MFX Sealed headset with is super smooth fast. The 4.5in wide deck has the Extreme CNC cutouts to save weight and composite flex fender brake and MADD's signature forged headtube. Each MGP VX7 Extreme is supplied with both a sheet of black griptape and also a sheet of clear grip too so you have your choice.
The wheels on the VX7 Extreme are Madd's 120mm 86a MFX Switchblade forged alloy with annodised cores. These wheels will have you rolling faster for longer as they are slightly bigger than the average wheel and will last longer due to the high rebound urethane.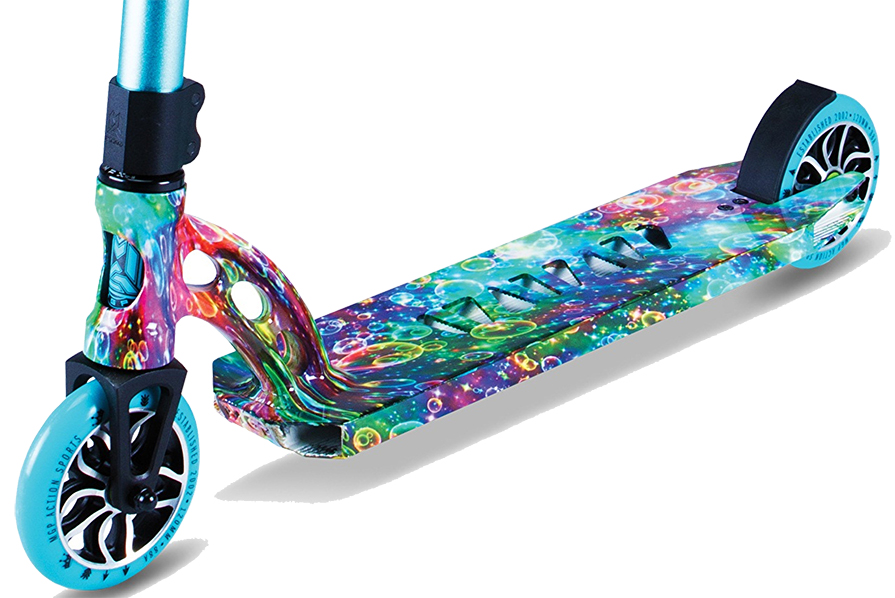 Features of the Madd MGP VX7 Extreme Series 3 in Chalk Explosion Colour:
Deck: 4.5in wide x 20.5in VX7 deck, T4 and T6 Heat Treated Alloy, Flute with concave and Extreme Cut Outs
Bars: Madd's Aero 25" high x 24" wide Anodised 6061 T6 Alloy Bars
Forks: DDAM M3 3D Forged 6061 Alloy IHC Fork
Wheels: Madd's 120mm 86a MFX Switchblade Alloy Core Wheels with high rebound Urethane
Grips: Madd's 150mm TPR Grind Grips with Nylon Bar Ends
Clamp: Madd's Double Bolt CNC Anodised 6061 Alloy Clamp
Headset: Madd Integrated MFX Sealed
Bearings: K3 ABEC 11 Rated Chrome High Speed
Brake: Madd 120mm MGP Composite Blitz Brake
Weight: 3.6 kg