We are very excited to offer this new range of MGP MGX scooters. The MGP MGX P1 Pro scooter really is a bar setter. You will find some incredible components and features throughout this scooter, all built around the foundation of 10 years of best selling and most successful scooters in the world.
MGP have hand picked components of the P1 resulting in a fantastic balance of weight, strength, durability and above all, affordability. The P1 will take anything you can throw at it, and will bounce back for more!
Top to bottom we have the 150mm Dual-Compound grips which are super soft and feature swirls to alleviate sweat and stickiness. THe bars are boasting a huge 21in wide by 23in tall and are formed from Japanese Cromoly. Sitting under the bars we have the MFX 120mm Voltage fork which boasts 6mm hardwear, eradicating rounded sockets. The MFX X2 Cobra clamp holds this scooter together with IHC compression. The deck comes in at a perfect 4.5in wide by 19.5in long which is perfect for those riders looking to push their scooting to the next level. The deck features more cut outs and fluted for further weight reduction. Finalising this scooter we have 120mm Corrupt Al Hollow Core WHeels which are a first on a scooter of this specification and price.
All in all, this is a huge specification scooter, which is super durable, at an incredible price point!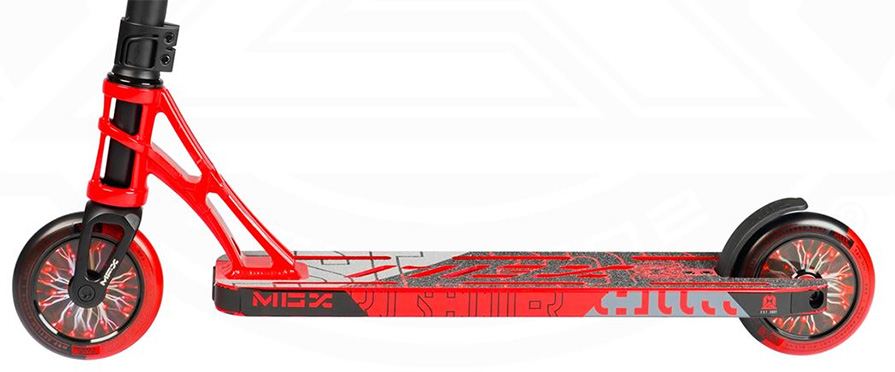 Specifications of MGP MGX P1 Pro Scooter in Red and Black
Grips - 150mm Dual Compound Swirl with Nylon Bar Ends
Bars - 21in Wide by 23in Tall MGP Low Risers with Patented internal fluting
Fork - MFX 120mm Voltage Aluminium Threadless with 6mm hardware
IHC Compression
Clamp- MFX X2 Cobra Aluminium with 6mm hardware
Deck - 4.5in Wide by 19.5in Long with patented fluting and machine welded MGPX intergrated Headtube
Weight - 3.30kg