We are very excited to offer this new range of MGP MGX scooters. The MGP MGX T1 Team scooter really is a bar setter. You will find some incredible components and features throughout this scooter, all built around the foundation of 10 years of best selling and most successful scooters in the world.
MGP have hand picked components of the T1 resulting in a fantastic balance of weight, strength, durability and above all, affordability. The T1 Team will take anything you can throw at it, and will bounce back for more!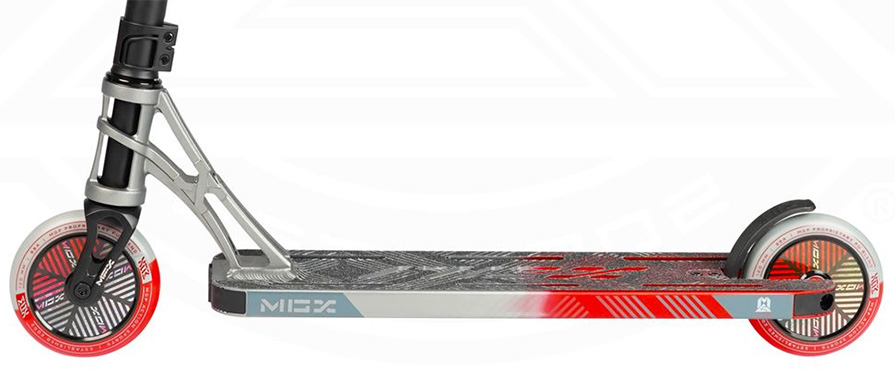 Top to bottom we have 180mm Dual Compound Super-Soft TPR Flangeless grips with premium nylon bar-ends on 23" by 25" Tall MGP Bars. These bars are made from Japanese Chromoly with a MFX X2 Cobra Aluminium Double Clamp with IHC Compression. A low-Friction integrated headset with sealed bearings on a MFX 120 Carbine Aluminium threadless fork featuring cuts out for weight reduction. The Deck comes in at 5" wide by 20" long, two phase heat treated aluminium reinforced by MGP patented fluted extrusion design. The deck has cutouts going down the deck to save weight to make scooter lighter overall. Madd MGX "X" integrated headtube is machine welded to the deck for extra strength. Wheels are 120mm Corrupt Aluminium Hollow Core with Madds MGP proprietary polyurethane blend with Abec-9 High-speed chrome bearings.
MADD MFG MGX T1 Team Specifications:
Grips: 180mm Dual-Compound Super-Soft TPR Swirls Flangeless Grind Grips with Nylon Bar-Ends
Handlebar: 23" Wide x 25" Tall MGP Highside 4031 Japanese Chromoly Standard Diameter with Internal Fluting (58.4cm Wide x 63.5cm Tall)
Clamp: MFX X2 Cobra Aluminium Double with 6mm Hardware
Headset: MFX Low-Friction Integrated with Sealed Bearings
Fork: MFX 120mm Carbine 6061 Aluminium Threadless with 6mm Hardware / Standard IHC Compression
Wheels: 120mm Corrupt Aluminium Hollow Core with 2-Tone MGP Proprietary Polyurethane Blend
Bearings: MGP K-2 ABEC-9 High-Speed Chrome
Deck: 5" Wide x 20" Long Two-Phase Heat Treated 6061 Aluminium Concave Fluted Extrusion Deck with Machine Welded MGX "X" Integrated Headtube
Brake: MFX V3 Composite Blitz Brake
Griptape: MGX Full Deck Super-Strength Grip with Team Cutouts
Finish: MGX Duo-Tone Anodized Deck with Full Deck Wrap Water Decal
Detail: Holographic Core Wheels and MFX Heavy-Duty PP Deck Blocks
Deck Weight: 1.29kg / 2.84lbs
Complete Weight: 3.60kg / 7.93lbs