In Stock & available for UK next day delivery
The MBS Pro 97 DW2 Dylan Warren Mountainboard is the update to the DW board in the MBS Pro range and has now joined the previous pro 95 and pro 100 into one model. Now coming with the Metal Matrix II Trucks and Rockstar II wheels it drops some weight and adds more precision and strength to the trucks. The wheelbase has also been shortened 1cm and the deck has extra fibreglass to be stiffer so a great tweaked improvement to an already awesome board!
Note for black friday sales there may be slight delay in dispatch due to popularity.
This board shares only heritage with the previous Pro models as everything is different from the ground up but the aim is still pro level performance! Designed from Dylan's street riding in Australia in the past years this board has a lot to offer a freestyle rider as well as all round performance mountainboard. Check out the video below to see hear all about it with Dylan and Joel head designer at MBS.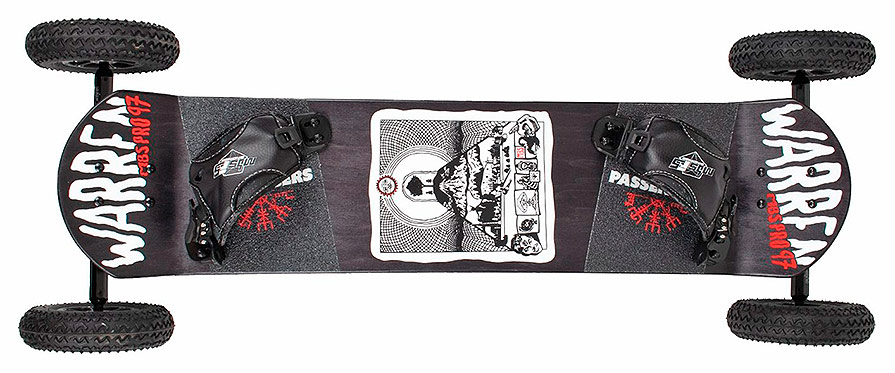 The new DW2 Pro 97 deck evolves from the new comp95 but is a touch longer, has extra reinforcement and stiffer for more performance plus still has the new asymmetrical concave to keep you locked onto the board giving more shape in the mountainboard deck than we have seen in many years. The F5 bindings lock you down good even with slim skate trainers then there are the new Metal Matrix 2 springless trucks saving a lot of weight at the ends of the board. The tried and tested rockstar II wheels and T1 tyres are always a favourite for race riders and freestyle as offer great grip and slide balance and are super light and fast on a track.
So what we have here is a mbs pro board that has been designed as a freestyle , street riders and jibber's dream! Super responsive with a stiff deck designed to rip up the rails and keep you locked in like glue. Already equipped with great tyres the only addition you could do is add on some heel straps or alloy wheels! The skate style graphics look amazing up close we look forward to seeing where this street inspired mountainboard brings the sport in the next few years!

If you are hankering to keep your Matrix Pro channel trucks then don't fear you can still fit matrix and skate trucks onto the Pro 97 as well as backward compatible to the F4 bindings. So if you want the new deck but wan't to keep your spring trucks then build a custom from the parts. Give us a call if you want help to work out the best fit in parts for your needs.
MBS PRO 97 DW2 Dylan Warren Features:
DECK: Dylan Warren signature deck with ultra stiff and poppy powerlam composite layup and asymmetric concave.
TRUCKS: MBS Metal Matrix II channel trucks with hollow CrMo axles and 6061-T6 aluminum top truck and hanger.
BUSHINGS: MBS ShockBlock truck suspension (Orange Medium) - dial in your turning resistance just the way you like it with the simple turn of a screw.
BINDINGS: MBS F5 ratchet bindings with dual density foam offer maximum comfort, adjustability, and strength.
HUBS: MBS RockStar II Hubs - Fast, true, light and indestructible.
TIRES: MBS T1 Tires - Lightweight and versatile on a wide range of terrains, from dirt parks to street spots.
MBS PRO 97 DW2 Dylan Warren Specs:
Overall Weight - 7.0 (kg) / 15.6 (lb)
Overall Length – 114.3 (c) / 45.0 (in)
Axle to Axle Length – 94.6 (c) / 37.2 (in)
Deck Construction - Powerlam+ (PBT, Fiberglass, Maple)
Deck Stiffness – Very Stiff
Deck Tip Angle - 30
Deck Length - 97.0 (c) / 38.2 (in)
Deck Width - 23.0 (c) / 9.1 (in)
Deck Weight - 2.5 (kg) / 5.4 (lb)
Axle Width - 39.0 (c) / 15.4 (in)
Axle Diameter - 12mm