Proto SCS (standard compression system)
The Proto SCS is to attach threadless forks to standard size bars. It works by bolting down into the threadless forks to compress the threadless headset. Professionally machined billet aluminum, anodized and laser engraved for durability!
Proto SCS contents:
1 x Brass Knuckle Quadruple Clamp
1 x Compression Cap
1 x Compression Bolt
1 x 1-1/8" starnut
4 x Clamp Bolts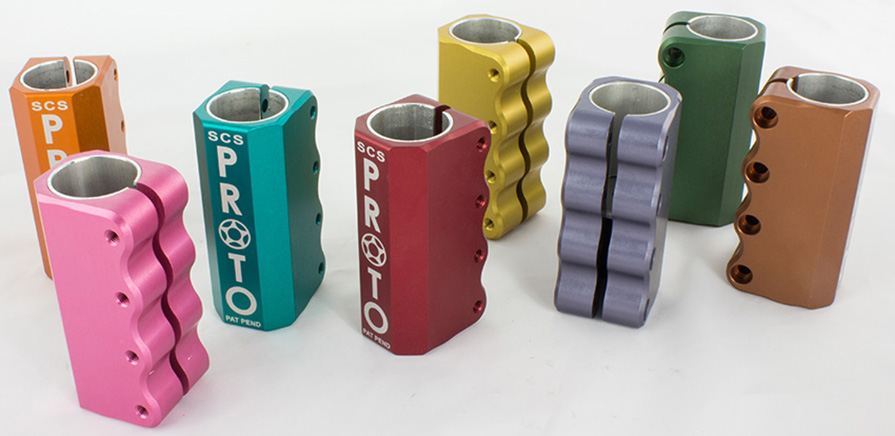 Proto SCS is now available in the following colours:
Proto SCS Blue
Proto SCS Black
Proto SCS Gun Metal
Proto SCS Purple
Proto SCS Green
Proto SCS Red
Proto SCS Gold
Proto SCS Copper
Proto SCS RAW
This system is compatible with all 1-3/8" O.D. steering columns and 1-1/4" O.D. columns with the use of the shim (pictured in red). Other size shims may be available upon request.
FOR USE WITH 1-1/8" THREADLESS FORKS ONLY!
MADE IN THE USA
SCS -
This is the standard compression system. This system works by entering a star nut into the top of your forks, a bolt is placed through the spacer which sits on a lip inside the SCS and is tightened down. The bars are then place into the top of the SCS and tightened. You must not have a slit in the bottom of your bars for this system. You can cut your bars down by around 1/2 inches as using this type of system makes you bars 2" higher any way.