In Stock & Available for delivery
Related Products
The Flysurfer Boost 2 is the second version of the top performance inflatable kitesurfing kite from Flysurfer and once again they have really pulled out all the stops on this one.
The Flysurfer Boost 2 has had its kite frame refined and 3D profiles enhanced to optimise stability and high end performance. Built for super high boosting jumps and hang time along with amazing upwind ability for racing the Flysurfer Boost 2 has a lot to offer experienced riders.
Super high aspect ratio and the pre-tensioned sail design makes the canopy super tight in use and the smaller sizes are optimised for their ideal wind conditions and stability but also to get the maximum speed, lift and float available.
Flysurfer have always been known for super-efficient light wind kites and the Boost 2 is no exception. The 15m and 18m are specifically aimed at light wind performance, with weight reduction and higher aspect ratio. They also feature a small rear bridle to get the best paraglider style performance out of light breezes. And there is also a new twist in inflation valve.
The Flysurfer Boost 2 is IKA registered for official racing and is an ideal kite for racers on courses, but also riders wanting to boost massive airs and freeride to the max. The high kite speed is also great for riders wanting to progress with hydro foiling and speed boards.
The Flysurfer Boost2 comes complete with the new Infinity 3.0 bar, which is an upgrade from the old Infinity 2.0, with a nicer grip and new chicken loop.
We could go on about this kite for hours. About its performance and float, upwind ability and speed but Flysurfer have produced some amazing videos of the kite in action with their team. Check out the designer interview below for the tech spec talk... or cut straight to the fun videos below to see the kite in action!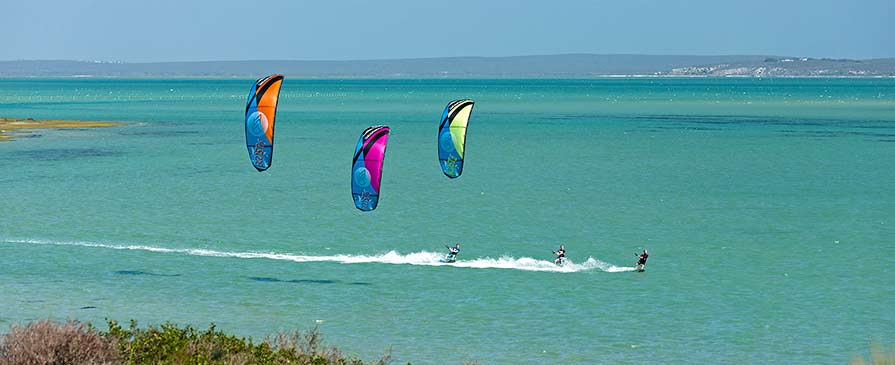 The Flysurfer Boost 2 Pricing is:
Boost2 5.0m kite only - £955.00
Boost2 7.0m kite only - £1,045.00
Boost2 9.0m kite only - £1,140.00
Boost2 11.0m kite only - £1,230.00
Boost2 13.0m kite only - £1,320.00
Boost2 15.0m LW kite only - £1,410.00
Boost2 18m LW kite only - £1,500.00
Kite only is everything apart from the bar and lines.
Infinity Airstyle Bar 50cm £410 (5m to 13m sizes)
Infinity Airstyle Bar 60cm £455 (15m and 18m only)
Ready-to-Fly package consists of:
BOOST2 Kite "ready-to-fly"
Infinity 3.0 Control Bar (including 21m flying line set)
R.E.D. Pump (with valve adapter)
BOOST Gear Guide
Self Launcher Bag
Repair Kit (inclusive Safety Leash, Depower Line and further spare parts)
BOOST Kite Bag
12 months free repair warranty