In Stock & available for UK next day delivery
The HQ Raid Assassin 8in Kite and Mountain Board is a great board for juniors and adults getting started for kiteboarding or for smaller riders downhill riding. The HQ Raid Assassin is the next evolution of the Scrub Psycho after Scrub stopped manufacturing boards. It was one of our most popular boards of all time and it's great to see HQ bringing them back as Raid! Not that it's the same board with new name it has been re-designed and taken the best parts and improved them for the best. There is now a been completely re-designed composite wood deck with greater "Pop". The new Raid Assassin has 5 spoke star shaped lightweight rims and special tyres with optimised grip and also for reliable weight saving and better performance ride. Weighing in just under 6Kg it makes a super performing board for kite riders wanting to push themselves from a beginner into a pro!

The HQ Raid Assassin 8in mountainboard is suitable for Junior and Adult riders getting into the sport of kite or downhill riding (best generally for riders under 6ft for downhill use). It is similar to the previous "Scrub Psycho" Board whether you want to cruise a long the beach with a kite or shed hills and woodland this is a great board to get you started! There is also a 9in tyre version of the Assassin but we would also recommend the 9in Raid Thief fro rougher terrain than the 9in Assassin but the 9in Assassin is lighter if on beach or kiteboarding and want the bigger tyres.
The Raid ATB Assassin 8in has super supportive velcro bindings and good solid griptape to hold all riders onto the board. The bindings are great for adult sized feet but can sometimes be a bit large for junior feet under size 5uk especially with slim style trainers. So the Assassin has a great composite wood deck, strong reliable trucks and light grippy tyres and hubs with great bindings. The specification and ride of the HQ Raid Assassin is amazing for the price and you need to spend a lot more to get a better performing board by any manufacturer!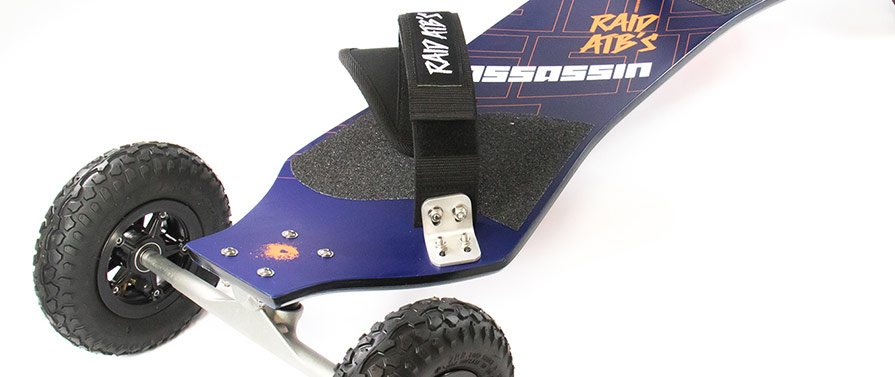 HQ Raid Assassin 8in Mountainboard and Kiteboard Features:
90cm Deck Length
Composite deck - strong and light with better flex and pop (Max rider weight 90Kg)
12mm hollow trucks makes the board super-light
Lightweight 5-Spoke Rims
Lightweight special kite grip designed 8" inch tyres or 9in tyres
Lowered deck for lower centre of gravity
Stainless steel bolts
Reinforced binding prevents tearing
Weight: 5.9 Kg