In Stock & available for UK next day delivery
The Kheo Kicker V3 Mountainboard is designed as a junior downhill mountain board and also junior and adult kite board. The Kheo Kicker is a great riding and well specified board for a first board for getting into downhill riding or kiting. Now in it's third version the Kicker has a new edgier deck outline and also comes with the thicker standard 12mm axle trucks to give more strength for tough landings. Another great feature with the Kicker is to comes complete with a leg leash, this is normally extra with most boards so offers great value for money for downhill riders.
The budget is spent where needed to give a quality ride at a great price. The wood deck is tough with good quality bindings, The hubs and tyres are no frills but quality. The Bindings are comfy and adjustable - A solid board for starting out in the sport that handles great. For younger riders with smaller feet i.e. under 10 years old then the Kheo Core Board is also worth considering as it's bindings fit a smaller foot than the kicker.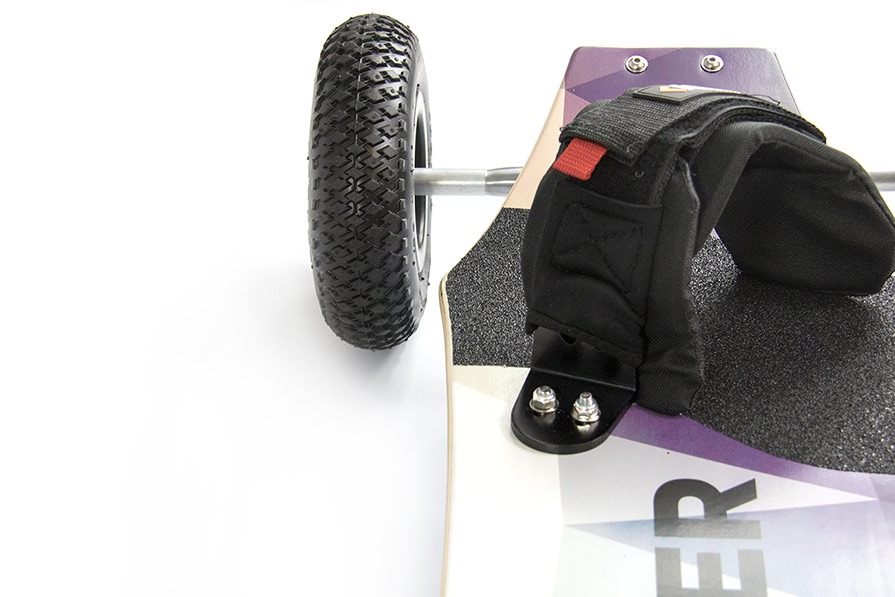 Kheo Kicker V3 Mountainboard Specification:
Overall Length: 106cm
Deck Length: 90cm
Weight: 6.1 Kg
Bindings: Kheo Velcro
Trucks: 12mm Skate Trucks
Tyres: 8inch Diamond Tread
Wheels: Five Spoke Standard
Bearings: R6 RS Abec5
Deck: 9 Ply Maple (20º tip angle)
Hardware: Stainless
Accessories: Kheo Coil Leash, Tool Kit and instructions