In Stock & available for UK next day delivery
The MBS Comp 95 board birds is the do it all board from MBS's range and it has always been the board that other brands tried to compete with and imitate. Now in it's latest incarnation it has taken a leap forward again in specification and gives us the ultimate freeride freestyle board for most riders. There is a completely new deck mould along with the new Matrix II trucks and the F5 Bindings this is the new benchmark for intermediate to advanced riders.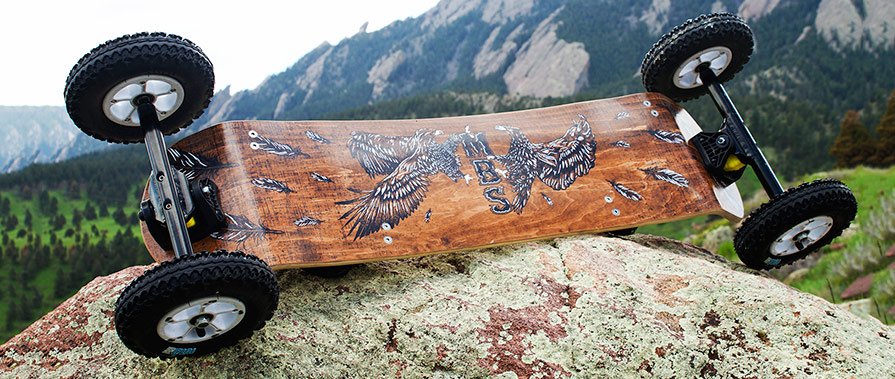 So lets break it down what is so good about the Comp 95 Birds? To start with it's the perfect mid length board so is ideal for most larger junior riders and adult riders. If you need to go longer then the Pro 97 is gives a couple of cm longer deck. The Deck is a pressed mixture of fibreglass and maple which has an asymmetrical concave under the foot so it's grips your shoe tighter and more naturally than flat decks in the past. The deck is mid to stiff in flex so absorbs the bumps but also has strength when landing a jump or hard drop. It's raised up slightly in the middle to give good ground clearance and the new bird graphics look pretty sick! Next up are the bindings, the F5 Ratchet bindings are the latest incarnation from MBS and are a great improvement on the older versions especially for wearing slimmer skate trainers. There are also special connection points for heelstraps built into the ladders.
The trucks are a complete redesign taking away the springs and the rattles and just having shock block steering this saves loads of components and weight which really helps at the tip of the board. The Comp 95 always came with super carvey eggshocks in the past and MBS have kept this style but you can always switch up to a harder block if you prefer a stiffer turning ride. The new Rockstar II hubs and T3 tyres complete the board and are super durable and grippy ideal for freeriding which is what this board excels at.
So who is this board for? Well most riders will enjoy the Comp 95 as it's aimed at all levels of rider. If racing and freestyle are your thing then don't discount it compared to the Pro 95 as it shares many of the components and for shorter lighter riders they may find the Comp95 a better ride. Again if you are more interested in freeride than racing then the softer deck will smooth out those ruts and keep you running true in the woods. There is also a bigger brother of the Comp95 with 9in tyres and pre-fitted brake available but if you are looking for brake and don't want the extra weight then just add a MBS V Brake onto the standard Comp 95 for a sick brake board.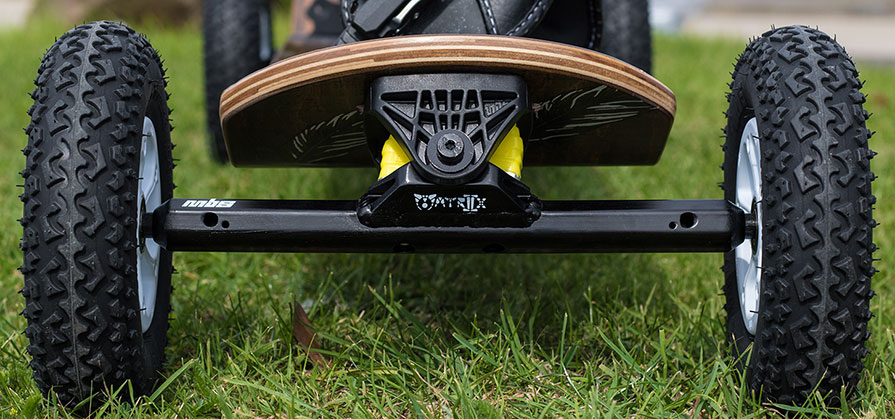 MBS Comp 95 Birds Mountainboard Specifications:
Rider Style: All-Around
Overall Weight: 6.4 kg / 14.0 (lb)
Overall Length: 113.3cm / 44.6 (in)
Axle to Axle Length: 93.3cm / 36.7 (in)
Deck Construction: Powerlam (Fiberglass, Maple)
Deck Stiffness: Medium
Deck Tip Angle: 30 degrees
Deck Length: 95cm / 37.4 (in)
Deck Width: 23cm / 9.1 (in)
Truck Type: Matrix II with ShockBlock (Yellow - Soft)
Axle Width: 39cm / 15.4 (in)
Axle Diameter: 12mm (Solid)
Hubs: Rockstar II White
Bearing Size: 6001 - 12 x 28mm
Tires: T3 (8") Black
Bindings: F5 Ratchet
Brake Compatible: Yes