In Stock & available for UK next day delivery
The all new MBS Pro Warren III mountainboard has had some big changes we have been waiting for! New snowboard construction deck with concave deck pads start things off with two wheelbase lengths. 116cm for long and low and 110cm for short and high freestyle setup. This makes it the shortest pro downhill board mbs have ever produced with still good stance width. The bindings are the F5's which are superb fit along with the Rockstar2 Wheels and T1 tyres so if it's not broke don't fix it! The next big change is the trucks, the new Matrix III's are a complete new re-design building on the successes of the Matrix2 and have multiple shock block position options and new formula blocks for more support and carvability when you need it for all weights of riders. Finally there is a truck that is adjustable for those bombing riders that want it super tight and even carving riders using without bindings! If you want to get all down into the specs checkout the tech talk video at the bottom of this page, if you want to see the board in action checkout the video below of Dylan Ripping!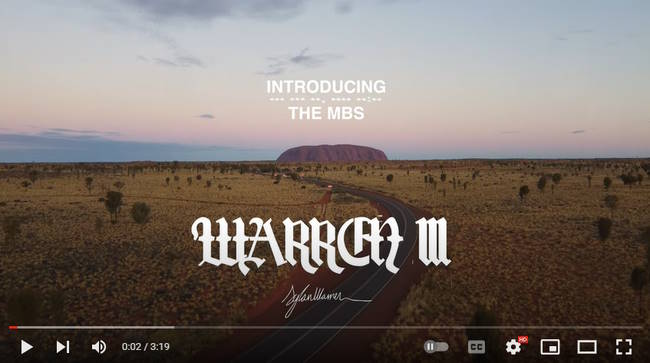 MBS Pro Warren III deck features: All new composite snowboard construction with a vertically laminated multi-species wood core and polyurethane sidewalls flat PBT coated base ideal for rail slides. The graphic artwork is by Jess Mudgett and finally to add some grip there are concave shock absorbing grip pads with radial concave and 36 grit griptape to hold you secure.
High performance snowboard-style composite construction
Vertically laminated multi-species wood core
Poppy fiberglass/epoxy structural layers
Durable polyurethane "white-wall" sidewalls
Hard-wearing sublimated PBT top graphic
Slick textured PBT base graphic ideal for rail slides
Aluminium truck-hole bushes
Multiple truck and binding mounting positions
MBS Pro Warren III trucks: New Matrix III trucks are durable, strong and endlessly changeable to fit your setup perfectly. which setup do you choose? Great carving and turning, or stability and high speed.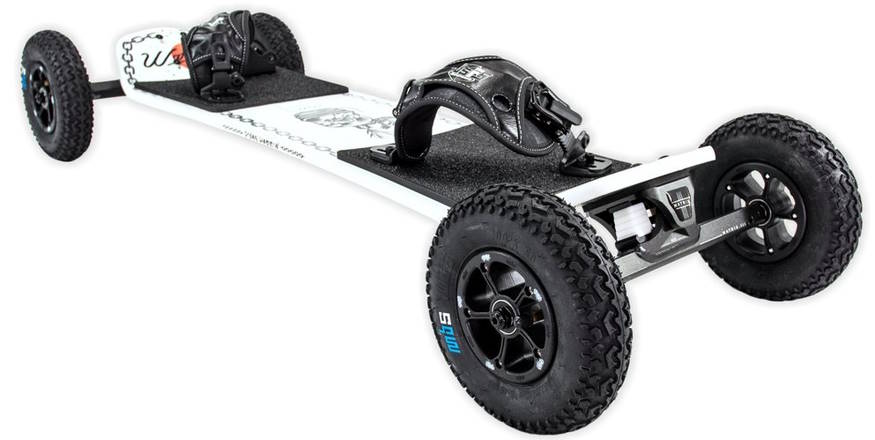 MBS Pro Warren III Truck Details:
Multiple shock positions for widest range of turning resistance available (inside = nimble carvey / outside = super stable)
Upgraded shock block shape and formula (3 hardness options)
Oversized hollow square hanger profile (stronger & lighter)
Tighter tolerances for unsurpassed turning precision
Upgraded pivot interface for longer life
Flippable design creates option for shorter / higher set-up
Two hanger width options and swappable axles allow for four possible widths
MBS Pro Warren III tires/hubs: Fast and light 8" T1 tires mounted on tried and true MBS Rockstar II hubs offer a dependable connection to virtually any surface on earth.
MBS Pro Warren III bindings: Comfortable, adjustable, and dependable F5 bindings. There's a reason everyone loves them.

MBS Pro Warren III Mountainboard specs:
Rider Style: Beginner to Advanced
Overall Weight: 15.9 (lb) / 7.2 (kg)
Overall Length (Variable): 43.7 – 46.0 (in) / 111 - 117 (cm)
Axle to Axle Length (Variable): 35.8 – 38.2 (in) / 91 – 97 (cm)
Deck Construction: Snowboard Composite Construction
Deck Stiffness: Stiff with High Pop
Graphic Material: PBT
Deck Tip Angle: 30
Deck Length 38.6 (in) / 98 (cm)
Deck Width (Max): 9.6 (in) / 24.4 (cm)
Deck Weight: 5.8 (lb) / 2.6 (kg)
Truck Type: Matrix III - Extruded 6061-T6 Alum Top Truck and Hanger; Cromoly axle
Suspension: Matrix III Shock Blocks (White - Soft)
Axle Width: 15.8 (in) / 40 (cm)
Axle Diameter: .472 (in) / 12 (mm) - Hollow
Hub Type: Rock Star II Black
Bearing: 12mm X 28mm
Tyre Type: T1 (8") – 200X50 Black
Binding Type: F5 - Black
Brake Compatible: Yes
Brake Included?: No