In Stock & Available for delivery
The Trampa Downhill Holy Pro Comp Black and Red Mountain Board
(35°L Holy Pro Deck, Vertigo Truck, Hypa Hubs, Alpha Tyres and Ratchet bindings) This is what we consider a competition level setup with the performance lightweight deck and trucks. The hypa hubs are great weight and strength for most riders without going up to alloy wheels.
This is a great intermediate to pro level board from Trampa's range. There is the long stiff downhill 35 degree deck with the cut out holy pro design to save weight mounted up with the lightweight and strong Vertigo trucks lightened and setup with the trampa springs and dampas. Then the connection to the board is with the trampa ratchet bindings which are compatible with heelstraps from mbs or trampa. The Hypa hubs are tough and lightweight especially with the Primo Alpha Lightweight tyres.
All in all this is a great board for freeride, freestyle and all round riding. The only part missing from it being the very top level are the alloy wheels and heelstraps but this is to save spin weight unless you are running in extra high tyre pressures there is not disadvantage to the hypa hubs.

As with all of our Trampa boards they are highly customisable with any brand of component including Trampa, Mbs, Scrub and Kheo. For more information, delivery estimates and prices give us a call or email us! We recommend getting in touch for a list of available compatible components for complete customisation.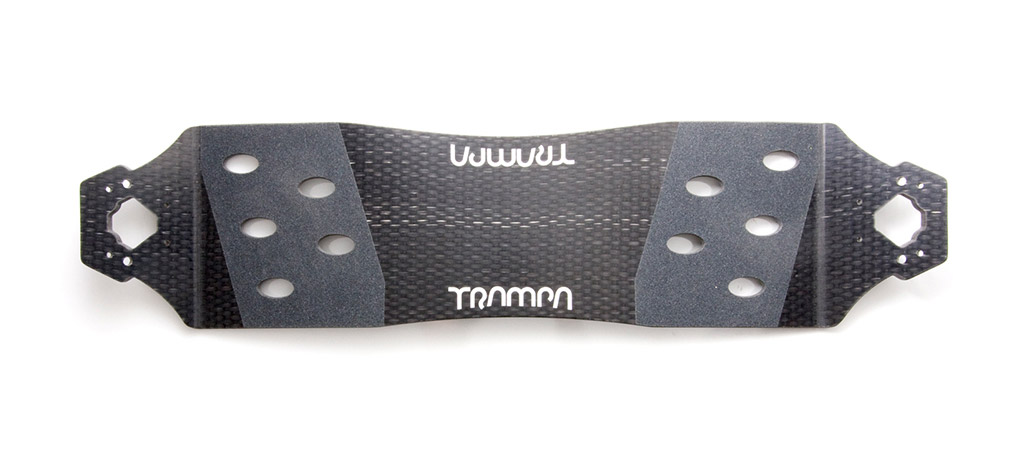 Trampa Downhill 35 L Comp Mountain board Red and Black Spec List:
Deck: 35° Holy Pro Mountainboard Drilled, edged and fitted with Trampa Treads
Truck: VerTigo Truck with Steel Kingpin
Wheel: Hypa Hubs and Alpha tyre
Bindings: Ratchet Straps Red L Brackets and Red Ratchets.
Deck length: 960 mm
Deck width: 230 mm
Wheel base: 960 mm
Wheel Diameter: 8 in
Truck Mounting Angle: 35 °
Truck Width: 16 in