Out of stock. Sorry, This item is now Discontinued.
Related Products
The MBS Matrix trucks revolutionised MBS's range about 10 years ago and now they have had their 1st big design change since they were created. The idea was to make the truck stronger, lighter, simpler and still keep the stability and accuracy the matrix is known for. After a lot of testing and prototyping the new 2nd Edition MBS Matrix II Pro truck is here!
Please note the current batch of Matrix II Trucks come with orange Hard Shock Blocks not orange.
No more springs and loads less parts make the truck simpler and stronger. The new design is the ShockBlocks which are a special shaped PU Blocks which give the rebound associated with springs along with damping of the eggshocks. There is still the adjuster to dial in the stiffness you prefer and also you can adjust the stiffness of the dampers and they are super east to change. There is also the brake attachment fixings if you want to ride with a brake for long decents on hard tyres.
This is the Pro Matrix II 2 Truck with Orange Hard ShockBlocks for super carving riding. You can change the blocks to give a softer ride if needed. There is also a Standard version of the Matrix II which is a bit heavier weight and comes with softer yellow ShockBlocks fitted.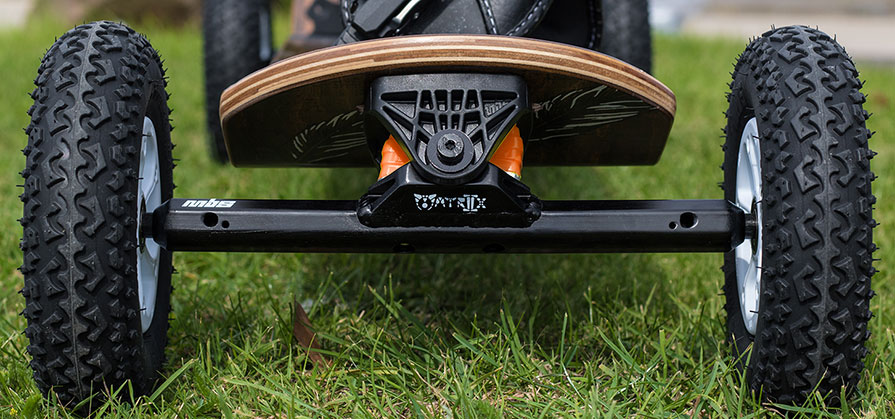 MBS Matrix II Pro Truck Features:
New springless PU ShockBlocks Orange (Hard)
Super compact geometry
22% lighter than original matrix truck.
Stiffness adjuster in the bottom of the truck
Independent toe/heel shock compression adjustment.
Easy to change ShockBlock installation
Smooth, flat, wide and easy to grind hangers
Composite top trucks virtually unbreakable.
Lightweight kingpin
Hollow 12mm Axles
New 4mm head hardware without washers.
697g each truck (31g Lighter then Std Matrix Pro)
15.5in axle width (393mm)